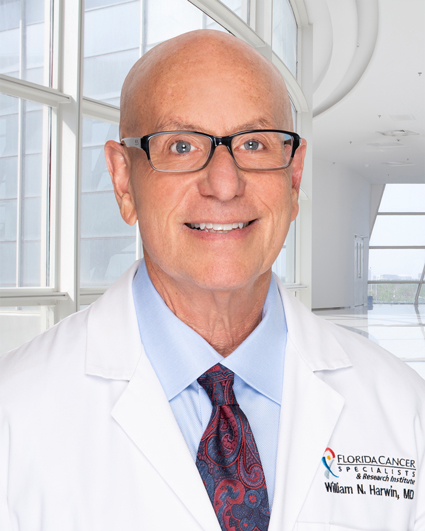 William N. Harwin, MD
Since founding Florida Cancer Specialists & Research Institute (FCS) in 1984, William N. Harwin, M.D. has guided the organization to build a national reputation for excellence that is reflected in exceptional and compassionate patient care, driven by innovative clinical research, cutting-edge technologies, and advanced treatments, including targeted therapies, genomic-based treatment, and immunotherapy. An innovator and leader in the field of medical oncology/hematology, Dr. Harwin is a highly respected clinician and researcher, as well as medical administrator. He has a strong emotional connection to FCS and a never-ending drive to ensuring that the company is best in class in every aspect of oncology, as well as providing compassionate, state-of-the-art care with a focus on participation in clinical trials and physician education. He is board certified in internal medicine, medical oncology, and hematology, and is a former President of Florida Society of Clinical Oncology (FLASCO). Each year for the past decade, Dr. Harwin has been named one of the top doctors in Southwest Florida by "Castle Connolly: America's Top Doctors." Winners of this prestigious award are peer-nominated and then reviewed and chosen by a national, physician-led panel, ensuring the highest practice standards are achieved.
After receiving his bachelor's degree from Oberlin College and his medical degree (M.D.) from Baylor College of Medicine in Houston, Dr. Harwin completed his internship and residency in internal medicine, and a fellowship in hematology and medical oncology at the University of Miami. In 1997, Dr. Harwin performed the first peripheral stem cell transplant in Lee County for a woman with breast cancer. He is a noted lecturer and has published in leading medical journals, including the prestigious Journal of Clinical Oncology. He currently serves on the Editorial Board for the Oncology Business Review(OBR). In 2015, Dr. Harwin was named to the Physician Advisory Panel for Florida Blue (Blue Cross/Blue Shield), one of the largest health insurance companies in the state.
Dr. Harwin has served as a principal investigator in numerous clinical trials throughout his career; he has been the driving force in developing the Florida Cancer Specialists Phase 1 Clinical Trials Program, which has set a national benchmark for community oncology and rivals programs at many larger academic medical centers. FCS currently has two Drug Development Units (DDUs) in its network and Dr. Harwin consistently leads the practice in the accrual of patients for clinical trials.
Although he treats all forms of cancer, Dr. Harwin has a special interest in lymphomas, gastrointestinal cancer, prostate cancer, and breast cancer, having lost his first wife to the disease in 2006. His personal experience with cancer has given him a unique perspective, both as an oncologist and as a single father. In addition to his dynamic medical practice, Dr. Harwin is devoted to his four adult children, five grandchildren and his new bride, Cimbria, who he married in 2015.
Treatments Provided
Hematologist
Medical Oncologist
Locations
Medical School
Baylor College of Medicine
Fellowship
Oncology/Hematology
University of Miami
Board Certified
Internal Medicine, Medical Oncology and Hematology
Honors & Achievements
2013 Castle Connolly: America's Top Doctors
2014 Castle Connolly: America's Top Doctors
Professional Affiliations
Florida Association of Clinical Oncology (FLASCO), Board Member, Fort Myers
Florida Association of Clinical Oncology (FLASCO), Past President, 1994-95
Dr. Bill Harwin - Florida Cancer Specialists & Research Institute