Participating in a Clinical Trial
Search for a Clinical Trial
If you have any questions or are interested in participating in one of our Clinical Trials, please take note of the associated protocol number and contact your Florida Cancer Specialists oncologist or a member of our clinical research team at (239) 274-9930, or email us at ClinicalTrials@FLCancer.com.
Participating in a Clinical Trial:Innovative Treatment Options
Every drug or therapy that is in place today to treat cancer had its start in a clinical trial. Florida Cancer Specialists partners with Sarah Cannon, which is the Cancer Institute of HCA Healthcare and one of the world's leading clinical research organizations, to bring innovative treatment options to patients throughout Florida.
In the past four years, the majority of new cancer drugs approved for use in the U.S. were studied in clinical trials with FCS participation, prior to approval. More than 85 active clinical trials are underway at any point in time. Over 9,000 patients have enrolled in FCS clinical studies since 2005.
FCS patients can participate in an available clinical trial regardless of their physician's location.
Clinical trials are not available for every condition. Talk with your doctor to discuss your options or call (239)274-8200 and ask to speak to a member of our Research team. For a list of current clinical trial opportunities with FCS, click here:
Questions Answered About Clinical Trials
Clinical trials are studies that assess the safety and effectiveness of cancer drugs and treatments. Clinical trials are necessary for new or improved treatments to be approved and made available to patients.
Our goal is to give patients the opportunity to participate in approved and exploratory therapies without long-distance travel. Clinical trials are not available for every condition. Talk to your doctor to discuss your options, or call (239) 274-8200 and ask to speak to member of our research team.
Clinical trials test treatments under very specific guidelines. Protocols, which are developed in advance, clearly define the purpose, specific steps and conduct of a clinical trial.
The protocol is written by the sponsor of the study, which can be a pharmaceutical company, academic institution or government agency, among others. It outlines how the study will be conducted and who may participate.  All research centers that participate in clinical trials are required to follow the same research protocol. To ensure the rights and safety of patients, the protocol is also reviewed by an Institutional Review Board (IRB).
Clinical trials are designed to evaluate the effectiveness of new treatments in patients who have cancer. Patients who participate in clinical trials benefit in several ways:
The potential to receive a new drug or treatment procedure. All participants receive either a promising new treatment or the best available existing treatment.
If a new treatment option is proven to work, they are among the first to benefit.
The opportunity to directly contribute to improving the understanding of how to treat a cancer and, in turn, benefit other patients.
While there is no guarantee that any treatment will be successful, clinical trials have been proven to offer some of the most effective cancer treatments currently available today.
Side effects and benefits for any cancer treatment vary depending on the individual patient. Guidelines are in place to protect all research participants. The research team conducting the study will explain any known or anticipated risks ahead of time. Participants are provided written information about the safeguards during the informed consent process, prior to starting any clinical trial therapy.
Consent
You will meet the study coordinator and the physician who will be tracking your progress during the study. The research study will be explained to you in detail including the potential risks and benefits, alternatives to participation, length of the study, number of required study visits and all required study procedures, exams and tests.
If you volunteer to participate in a research study, you must sign an Informed Consent Form, which explains the study in detail and confirms that you understand all aspects of the trial. Your consent to participate is strictly voluntary and you have the right to withdraw your consent at any time.
The Screening Process
You will be interviewed regarding your medical history and all current medications.
Screening exams, tests, procedures, physical exams will be done according to the requirements of each particular study. These procedures were discussed in the initial interview and are included on the Informed Consent form.
After completing all of the required screening tests and procedures, you are eligible and will then start the study procedures. Some patients may not qualify for the study, and, if deemed ineligible, will stop all procedures.
The Study
After you complete the screening process and are accepted for participation, you will be assigned the study medication according to the individual schedule, which was discussed at the initial interview and on the Informed Consent form.
Your compliance with taking the study medication will be assessed throughout the study. You will be required to return all study medication containers at each study visit. Depending on the study, you may be required to keep a daily diary between visits, and there may be additional testing and procedures required throughout the study.
After the Study
At the end of the study, the study coordinator and the physician will conduct a final assessment, including a physical exam, and they will collect all remaining study supplies. They will also make follow-up recommendations, if appropriate. You may be contacted in the future for any new studies in which you may be interested.
There are two types of costs associated with a trial: patient care costs and research costs.
Patient care costs
There are the usual costs associated with providing medical goods and services to any patient, such as doctor visits, hospital stays, clinical laboratory tests, x-rays and others that occur regardless of whether a patient is participating in a clinical trial or receiving standard treatment.
These costs are usually covered by a third-party health plan, such as Medicare or private insurance.
Research costs
Research costs are specific to the clinical trial participation, and can include fees for data collection and analysis, research physician and nurse time and tests performed purely for research purposes.
These costs are usually covered by the sponsoring organization, such as a pharmaceutical company, academic institution or government agency.
Be sure to consult with your physician and research coordinator about the financial aspects of any trial you are considering.
Medicare Coverage of Clinical Trials
For up-to-date information about Medicare coverage of clinical trials, visit www.cms.hhs.gov/ClinicalTrialPolicies to view the Medicare Clinical Trials Quick Reference Guide. As of January 2001, the following information was accurate:
Medicare Approved Clinical Trials
In general, cancer treatment and diagnosis trials are covered if:
The trial is funded by the National Cancer Institute (NCI), NCI-Designated Cancer Centers, NCI-Sponsored Clinical Trials Cooperative Groups and all other Federal agencies that fund cancer research. Other trials may be eligible for coverage and doctors can ask Medicare to pay the patients' costs. Patients should ask their doctor about this before beginning a clinical trial.
The purpose or subject of the trial is within a Medicare benefit category. For example, clinical trials focused on the diagnosis and treatment of cancer are Medicare benefits, so these trials are covered. Cancer prevention trials are not currently covered.
Medicare patients who wish to participate in a clinical trial that is not described above, or patients who are unsure whether their trial meets all of the requirements should discuss these concerns with their doctor. Often, there are other available trials that might be covered, so it is important that patients consult with their physician to evaluate their options before beginning a clinical trial that is not covered.
Medicare Covered Costs
Any medical service normally covered by Medicare (usual care costs) is still covered when it is provided as part of a clinical trial, including tests, procedures and doctor visits.
Usual care costs, even if it is a service or item used in the experimental treatment, are covered. For example, Medicare will pay for the intravenous administration of a new chemotherapy drug being tested in a trial, including any therapy to prevent side effects from the new drug. Also, a test or hospitalization that Medicare would ordinarily cover for a cancer patient would still be covered, even though the services required resulted from a side effect from the experimental drug or treatment.
Medicare Non-Covered Costs
Investigational items or services being tested in a trial (research costs) are typically not covered. Sponsors of clinical trials often provide the new drug free, but patients should be sure to determine whether this is the case before beginning a trial.
Items or services used solely for the data collection needs of the trial (research costs) are typically not covered. For example, lab tests, x-rays or CT scans that are required more frequently than usual for the purpose of research are not covered.
Items provided free by the sponsor of the trial, such as drugs or specialized procedures are typically not covered.
When you enroll in an FCS clinical trial, we make sure you are know what to expect throughout the entire process.
It is important to understand the clinical trial process, what you can expect during the study, and the team members who will care for you in your journey. Watch this video for more information about what you can expect while enrolled in a clinical trial.
Phases of Clinical Trials
Development of new drugs and treatment strategies occurs in four specific phases to determine its risks, safety and effectiveness compared to standard therapy. The hope is that the new therapy will be an improvement over the previous standard therapy.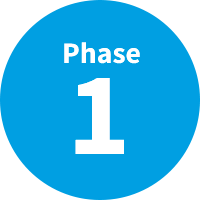 Phase I Trials
Phase I trials usually involve a small number of patients and the primary goals are to determine the activity in humans, the maximum tolerated dose, how the drug works in the body, the side effects and duration of side effects. The information gathered in Phase I trials is used to begin Phase II trials.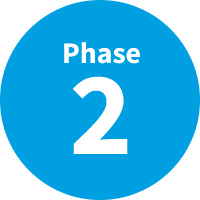 Phase II Trials
Phase II trials are designed to assess the effectiveness of the treatment in a specific patient population. These trials usually include larger numbers of patients than Phase I trials. Drugs or therapies that proved to show positive activity in Phase II trials may be approved for standard treatment or may require additional evaluation in Phase III trials.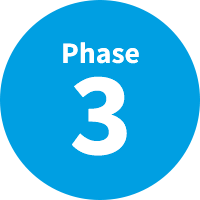 Phase III Trials
Phase III trials typically compare a new drug or therapy with a standard therapy in a randomized manner.  This allows a direct comparison to determine effectiveness. Phase III trials require a large number of patients to measure the statistical strength of the results.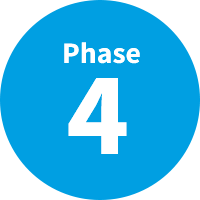 Phase IV Trials
Once the drug or treatment becomes part of standard therapy, the manufacturer of the drug may elect to initiate Phase IV trials. These are conducted for ongoing evaluation of the treatment effectiveness and monitoring of side effects, as well as implementing studies to evaluate usefulness in different types of cancers.