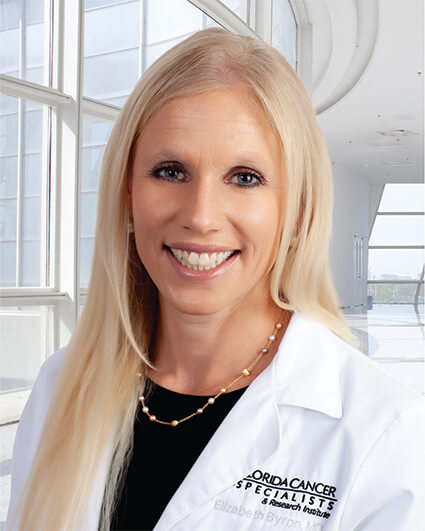 Elizabeth A. Byron, MD
Dr. Byron treats patients with a broad range of oncologic and hematologic diseases, she has a special interest in breast and lung cancers. After completing her Oncology/Hematology Fellowship, Dr. Byron also gained concentrated experience as a moonlighter with the Bone Marrow Transplant team at Moffitt Cancer Center in Tampa, FL. An avid researcher, she has presented her findings as poster presentations at the 2013 European Neuroendocrine Tumor Society in Barcelona, Spain and the 2014 North American Neuroendocrine Tumor Society in Charleston, North Carolina.
Dr. Byron has also been published in such prestigious journals as Cancer Control, Journal of Neuroscience Methods and the Journal of Clinical Oncology. During college, she earned a spot on both the varsity basketball and varsity track team at her alma mater, Emory University, and, today, remains passionate about exercise. She enjoys running marathons and participating in triathlons, as well as rollerblading, playing tennis and spending time with her family and friends.
Treatments Provided
Hematology
Medical Oncology
Locations
Medical School
University of South Florida College of Medicine
Education
Undergraduate School – Emory University – Atlanta, Ga
Residency
University of South Florida College of Medicine
Fellowship
Oncology/Hematology – Moffitt Cancer Center
Board Certified
Internal Medicine
Medical Oncology
Hematology
Professional Affiliations
American Society of Oncology
American Society of Hematology
Dr. Elizabeth Byron & Patient Kathryn Goodwin - Florida Cancer Specialists
Sarah Ramirez Patient Testimonial - Dr. Elizabeth Byron - Florida Cancer Specialists