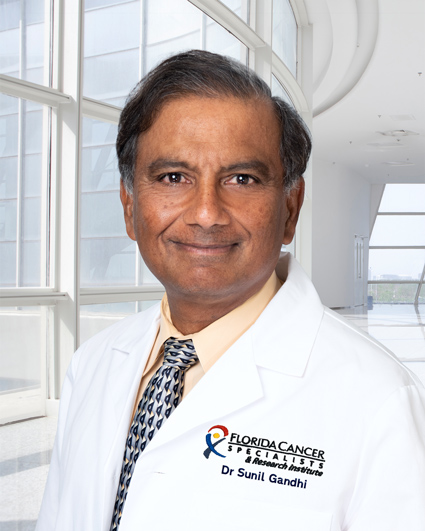 Sunil Gandhi, MD, FACP
Q&A with Medical Oncologist Dr. Sunil Gandhi: Colorectal Cancer
Why is colorectal screening important?
Almost all colon cancers start with a benign growth, called polyp. A colonoscopy helps detects polyps and removes them—thus it helps prevent cancer, rather than just detect early stages, like mammograms.
Obesity/being overweight is a risk factor for many cancers. Why is it important to maintain a healthy weight?
Correcting obesity not only reduces the risks of cancer recurrence, but also can help to reduce cardiovascular mortality and decrease the risk of developing diabetes, high blood pressure, etc.
How rapidly does colon cancer spread?
Every cancer is different and so, the rapidity with which it progresses differs. For example, colorectal cancer is typically slow-growing, while small cell lung cancer is extremely fast-growing and can double in weeks to a month.
Treatments Provided
Hematologist
Medical Oncologist
Locations
Medical School
Baroda Medical College – Baroda, India
Residency
Christ Medical Center – Oaklawin, Illinois
Fellowship
Oncology/Hematology

UCLA – San Fernando Valley Program
Board Certified
Internal Medicine
Medical Oncology
Community
Board Member, American Cancer Society
Executive Committee Member, Citrus Memorial Hospital: 2003-2013.
Fellow of American College of Physicians
Member of American Society of Clinical Oncology
Highlights
Weekly Article for Citrus County Chronicle: 2001-Present
Charles Richie Patient Testimonial
Dr. Sunil Gandhi - Florida Cancer Specialists