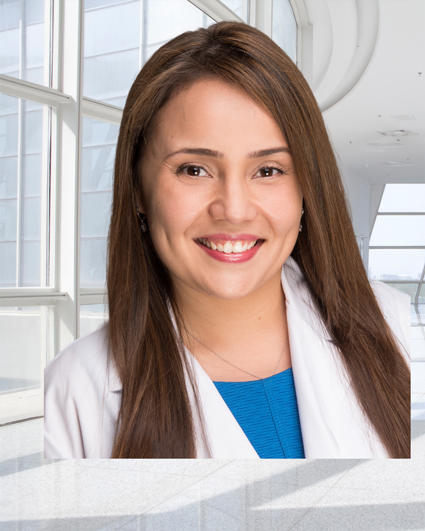 Liliana Bustamante, MD
After earning her medical degree from University of Florida, College of Medicine in Gainesville, FL, Dr. Liliana Bustamante completed her internship and residency in Internal Medicine at the University of North Carolina in Chapel Hill, NC. In 2014, she was awarded a Fellowship in Hematology/Oncology at the University of South Florida / Moffitt Cancer Center in Tampa, FL.
A native Spanish speaker, Dr. Bustamante has a keen interest in clinical research and has presented at various medical meetings, including the 2015 International Society of Geriatric Oncology's Annual Conference in Prague and the Annual Scientific Session of the North Carolina Chapter of the American College of Physicians. Dr. Bustamante has also written several book chapters and has been published in several peer-reviewed journals.
Throughout her career, Dr. Bustamante has volunteered in her local community and beyond, including serving as a leader for Medical missions in Ecuador and helping co-found a non-profit organization serving children in her native country of Colombia. In her free time, she enjoys traveling, spending time with her family and watching the Florida Gators!
Treatments Provided
Hematology
Medical Oncology
Medical School
University of Florida – Gainesville, FL
Education
Undergraduate School – University of Florida – Gainesville, FL
Fellowship
Oncology/Hematology – University of South Florida / Moffitt Cancer Center
Board Certified
American Board of Internal Medicine
Medical Oncology
Honors & Achievements
Gold Humanism Honor Society, UF 2010
NEY Award | Internal Medicine Program, UNC 2014
Bryan Award | Internal Medicine Program, UNC 2013
Ontjes Award |Internal Medicine Program, UNC 2012
Professional Affiliations
American Society of Hematology (ASH)
American Society of Clinical Oncology (ASCO)
American College of Physicians
Meet Dr. Liliana Bustamante
Clinical Trials with Florida Cancer Specialists Provide Hope with Advanced Treatments Today
Dr. Liliana Bustamante Physician Spotlight - Florida Cancer Specialists & Research Institute
Leticia Rodriguez Patient Testimonial - Dr. Liliana Bustamante - Florida Cancer Specialists