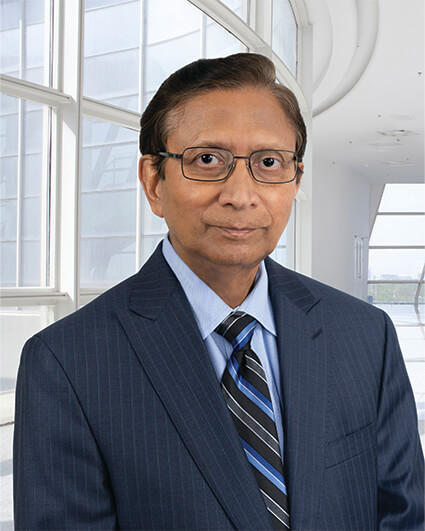 Gamini Soori, MD, MBA, FACP, FRCP, CPE
Dr. Gamini S. Soori is board-certified in internal medicine, geriatric medicine, medical oncology, hematology, and medical management. He received his MBA from the University of Tennessee, School of Business PEMBA program and is a Certified Physician Executive. Dr. Soori graduated with honors among the top ten in his class at the Faculty of Medicine, University of Ceylon, Colombo, Sri Lanka, and completed a Residency in the United Kingdom. He completed his Fellowship training in Medical Oncology and Hematology at the University of Wisconsin Comprehensive Cancer Center. He received additional training in Hematology, Oncology, and Bone Marrow Transplantation at Royal Marsden Hospital and Institute of Cancer Research in London.
As a cancer researcher, Dr. Soori is actively engaged in clinical research in affiliation with several national co-operative clinical trial groups, including his role as principal investigator of the National Cancer Institute-funded Missouri Valley Cancer Consortium. He serves in leadership roles with trials at Alegent Creighton, Mayo Clinic, and the National Cancer Institute. Dr. Soori is an editorial board member of the Journal of Oncology Practice and has published more than 100 articles and abstracts in peer-reviewed journals and has written text book chapters in oncology.
An accomplished humanitarian and leader, Dr. Soori has received a variety of honors including 25 Year Distinguished Service Award from the Creighton University School of Medicine; a Candle Light Award from the Alegent Bergan Mercy Medical Center; a Distinguished Service to Medicine Award from the Nebraska Medical Association; a Leadership Award from the AMA Foundation; an Outstanding and Exceptional Accomplishment Award from the Sri Lanka Foundation of the United States, and a Spirit of Mission Award from Alegent Health System.
Dr. Soori is married to Chandrika Soori, MD, and has a daughter, Jasmine, and a son, Marcus.
Treatments Provided
Hematology
Medical Oncology
Medical School
Ananda College | Colombo, Sir Lanka
Education
Graduate School – MBA: University of Tennessee | Knoxville, TN
Residency
University of Ceylon Teaching Hospitals | Colombo, Sri Lanka
Fellowship
Departments of Human Oncology & Medicine | University of Wisconsin, Madison, WI
Board Certified
Internal Medicine
Geriatric Medicine
Medical Oncology
Hematology
Medical Management
Honors & Achievements
Listed in Best Doctors of America
Professional Affiliations
American Society of Clinical Oncology (ASCO)
Florida Society of Clinical Oncology (FLASCO)
American Medical Association (AMA)
American Society of Hematology (ASH)
American College of Physicians (ACP)