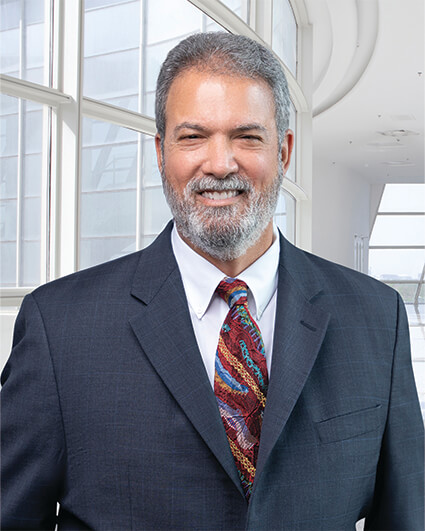 Barry Berman, MD, MS
Board-certified in medical oncology, hematology, and internal medicine, Dr. Berman earned his medical degree from the University of South Florida College of Medicine, received his internal medicine training at the University of South Florida, and completed his fellowship in medical oncology and hematology at the University of South Florida, H. Lee Moffitt Cancer Center.
Serving many years as a board member for the Florida Society of Clinical Oncology (FLASCO), Dr. Berman also held positions as Clinical Practice Committee Chair, Vice President, Secretary and Treasurer for FLASCO. He has also served on the American Society of Clinical Oncology (ASCO) Practice Guideline Implementation Network (PGIN) Committee since 2015 and was an author on three of the current guidelines. He also served as chair of the Investigational Review Board at Broward Health.
As a cancer researcher, Dr. Berman has been actively engaged in multiple clinical studies over the last 25 years and has been published in many peer-reviewed journals.
In his spare time, Dr. Berman enjoys photography, traveling, spending time with his family, and teaching his miniature Australian Shepard new tricks.
Treatments Provided
Hematology
Medical Oncology
Locations
Medical School
University of South Florida – Tampa, FL
Residency
University of South Florida – Tampa, FL
Fellowship
Medical Oncology/Hematology – University of South Florida/H. Lee Moffitt Cancer Center – Tampa, FL
Board Certified
Medical Oncology
Hematology
Internal Medicine
Professional Affiliations
American Society of Clinical Oncology (ASCO)
ASCO Practice Guideline Implementation Network (PGIN), Committee Member
Florida Society of Clinical Oncology (FLASCO), Secretary
American Medical Association
American Society of Internal Medicine
American College of Physicians
Southern Association of Oncology
Colon Cancer Facts with FCS Medical Oncologist Barry Berman, MD, MS
Prostate Cancer Risks & Treatment Options – FCS medical oncologists Drs. Barry Berman and Mahdi Taha