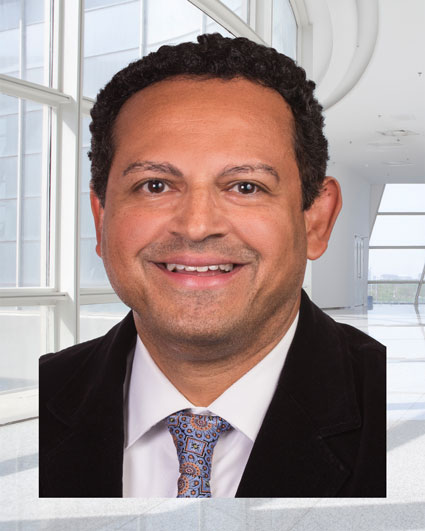 Sachin Kamath, MD
Medical Director, Radiation Oncology & Compliance Committee Chair
Board-certified radiation oncologist Dr. Sachin Kamath believes open communication with his patients is absolutely essential. Dedicated to ensuring his patients achieve the best outcomes possible, he strives to use the most advanced and proven techniques and technologies available in a compassionate, supportive environment that emphasizes the patient as being part of a family.
Dr. Kamath joined Florida Cancer Specialists in 2015 as Medical Director of Radiation Oncology. He and his colleagues are dedicated to providing evidence-based radiotherapy treatments, including highly sophisticated stereotactic radiosurgery and stereotactic radiotherapy treatments in very short schedules that result in better outcomes, decreased cost and patient convenience.
He is a member of the FCS Executive Board and chair of the Compliance Committee. He also serves on the Florida Society of Clinical Oncology (FLASCO) Board of Directors.
With a keen interest in clinical research, his work has been published in prestigious industry journals, including the International Journal of Radiation Oncology, and he is a sought-after presenter and trainer and national conferences. His numerous awards and honors include Vitals "Top 10" Doctor, Patients Choice Award and Healthgrades Honor Roll, among others
Dr. Kamath received his medical degree from the University of Florida College of Medicine, where he also completed residency training in Radiation Oncology.
Dr. Kamath began practicing in 1998 as Medical Director of Radiation Oncology at the Robert Boissoneault Oncology Institute in Ocala, Florida. In 2008, he was given the opportunity to develop a new multidisciplinary cancer program at Diablo Valley Oncology in Pleasant Hill, California, where he practiced for the next six years. In 2014, he was recruited back to Florida by the Moffitt Cancer Center and Research Institute in The Villages.
Medical School
University of Florida – Gainesville, FL
Residency
University of Florida Department of Radiation Oncology – Gainesville, FL
Fellowship
University of Florida Department of Internal Medicine – Gainesville, FL
Honors & Achievements
State "Top 10" Doctor Award
Patients Choice Award
Compassionate Doctor Recognition
Healthgrades Honor Roll Outstanding Resident Award
Talken Award for Best Oral Presentation
Resident Fellow Research Award
March of Dimes Research Fellowship
National Cancer Institute Research Training Fellowship
Pharmacology Research Fellowship Award
National Merit Finalist Award Scholarship Recipient
Professional Affiliations
American Society for Therapeutic Radiology and Oncology (ASTRO)
American College of Radiation Oncology
American College of Radiology
American Medical Association
Dr. Sachin Kamath & Patient Jeryl Hansen - Florida Cancer Specialists