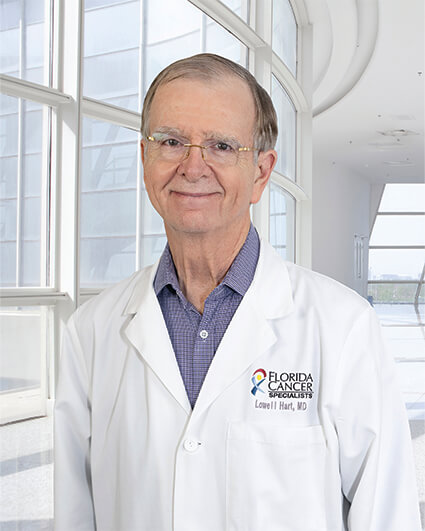 Lowell L. Hart, MD, FACP
As the Scientific Director of Clinical Research, Dr. Lowell Hart oversees the extensive clinical trial and research program at Florida Cancer Specialists & Research Institute. As a strategic research site for the largest community-based clinical trial organization in the nation, Florida Cancer Specialists & Research Institute can offer our patients more access to clinical trials than any other oncology practice, hospital, or academic medical center program in the state of Florida. Dr. Hart graduated with a B.A. from Columbia University in New York City, and completed his Internship and Residency at the University of Miami Hospitals.
His Fellowship in Hematology & Oncology was with Duke University Medical Center in Durham, NC, and he later served at Duke as an Attending Physician in the Breast Oncology Clinic. Dr. Hart joined Florida Cancer Specialists in 1989 and was named Research Director in 2003. He has served as a sub-investigator or principal investigator in well over 100 clinical trials, and has extensively published the results of his research. He has served on the Board of Directors for the Florida Society of Clinical Oncology, and currently serves on the Editorial Board of Oncology & Biotech News. In 2010 and 2011, Dr. Hart was a guest participant at the International Breast Cancer Conference in Paris, France.
Treatments Provided
Hematology
Medical Oncology
Locations
Medical School
State University of New York
Fellowship
Oncology/Hematology
Duke University
Board Certified
Internal Medicine, Medical Oncology and Hematology
Dr. Lowell Hart & Patient Jenette Hicke - Florida Cancer Specialists