Prep Sheets
The files below can be viewed, saved or printed using Adobe Acrobat Reader (PDF).
Diagnostic Imaging
The Radiology Department at FCS is proud to present the latest family of Siemens Biograph Scanners. This state-of-the-art technology allows us to provide our patients with the highest quality imaging services. Those services include Low Radiation CT scans as well as a variety of PET/CT scans. Complementing our cutting edge technology, our highly skilled and dedicated team of Radiologists, Technologists and Staff Members will make you feel right at home, while providing you with service that reflects our PACT values.
FCS also offers radiology services for our neighboring physicians using state-of-the-art technology, exams are performed on the latest family of Siemens Biograph Scanners.
CT Scans
Computed Tomography scans (CT scans) are specialized X-ray imaging scans that produce a 3D image of your body and organs. This cross-sectional technology allows for the most accurate localization, size and shape of tumors and lesions. The sensitivity and accuracy of this information is of extreme value in determining your treatment options.
In our continuous commitment to patient care, FCS has invested in specialized software and technology, which minimizes radiation exposure, while producing the highest quality images.
PET Scans
A Positron Emission Tomography (PET) scan is a highly specialized and effective way to visualize the metabolic activity of the cells inside the body. This activity will produce images that will identify the location of diseases such as cancer and the possible spread of the disease to other areas of the body.
A PET scan can also help physicians monitor the treatment of disease. For example, chemotherapy leads to changes in cancer cells; the goal is to stop its growth and to kill the bad cells. PET scan images will help determine if the cancer is positively responding to treatment.
A PET scan allows your physician to see changes to your cancer in a way that has never before been possible.
This is because the radioactive medicine (dose) that is used for these scans is mixed with sugar. Your body's natural tendency is to absorb sugar. As your body absorbs the sugar, it also absorbs the radioactive medicine. If your cancer/tumor is already dead or dying, it will not absorb the sugar and radioactive medicine. This gives physicians an alternative technique to evaluate treatments earlier, perhaps even leading to modifications in treatment.
Another use for PET scans is after your cancer treatment is complete. A PET scan allows the physician to see if your cancer has recurred. PET scans enable your physician to distinguish between the images and shadows that are normal on an x-ray image or CT scan. They can help determine whether there are any active ("alive") cancer cells or if there is only dead tissue, such as scar tissue. These "normal" shadows and/or scar tissues can be the result of surgery and/or radiation therapy.
Perhaps most importantly, a PET scan puts time on your side. The earlier the diagnosis and the more accurate the assessment of the extent of disease, the better the chance for successful treatment.
PET Scans Are a Vital Part of Cancer Care
The majority of PET scans are performed for diagnosing, staging and evaluating treatments for cancer care. A PET scan helps the physician distinguish between living and dead tissue or between benign and malignant disorders, unlike other imaging technologies that merely confirm the presence of a mass. PET imaging technology provides the physician with additional information about how your cancer is growing (i.e., whether it is fast or slow growing). At the end of the PET scan, a trained Radiologist can determine if your tumor is malignant or benign, depending on its specific characteristics.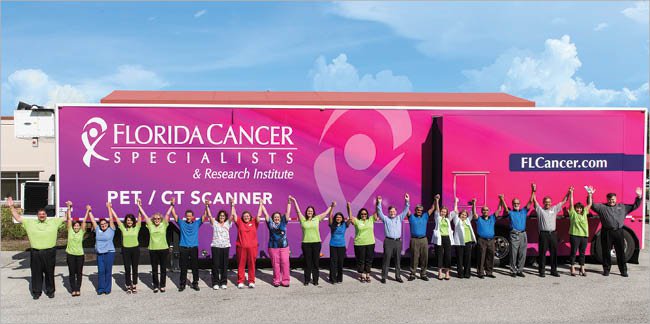 Mobile Units
These custom-built, state-of-the-art trailers are the way in which we bring the most advanced scanning technology to the smaller communities that we serve. This is who we are and what we are proud of: "World Class Medicine, Home Town Care."
We have equipped these mobile units with best in class Siemens scanners, which allow us to provide imaging services normally only performed at University Hospitals or Oncology Research Centers far away from your community.
Florida Cancer Specialists was the first oncology practice in the Southeast to employ this next-generation PET/CT technology on a mobile platform.
Radiology Services inside our clinics or "Fixed Sites"
In keeping with our commitment to the community and the best care for our patients, FCS has strategically placed Radiology Services inside some of our most centralized clinics. These "Fixed Sites," as we call them, are also equipped with the latest state-of-the-art-technology, which allows us to provide the highest quality imaging services to our patients.
In order to better assist our physicians with vital information needed to treat cancer patients, Florida Cancer Specialists is proud to be able to extend the highest level of diagnostic imaging to the physician-based community and, most importantly, to our patients.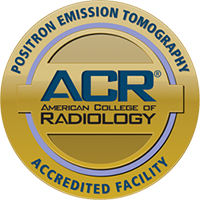 Florida Cancer Specialists Features Siemens "Next Generation" Technology
Florida Cancer Specialists is dedicated to ensuring that our patients have access to the most advanced technologies available. Ten of our PET/CT Scanners have been upgraded to Siemens "next generation" technology, affecting over 65% of our total imaging sites of service and covering the majority of the footprint of FCS. The new scanners, the Siemens Horizon and the Siemens mCT 20, along with the current Siemens Biograph systems, all have the latest upgraded software making them NEMA (National Electrical Manufacturers Association) XR-29 compliant.
In addition to the American College of Radiology accreditation, our scanners have the latest technologies to modify and track radiation doses per scan to ensure maximum patient safety.
Diagnostic imaging is an important aspect of cancer diagnosis and treatment. Advanced technology and a dedicated radiology team to interpret results are critical components in your cancer care. In addition to cutting-edge technology and services, FCS offers utmost convenience in scheduling your diagnostic tests at multiple locations to best meet your schedule.