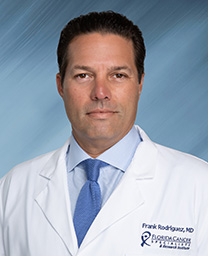 Frank Rodriguez, MD
"How do you do this job?"
A cancer diagnosis is always scary, from the simplest skin cancer, to the most complex cases, cancer is a word no one ever wants to hear.
Through my years in medical oncology, I have learned to better understand the challenges patients and their families face when dealing with this disease. There is always a bit of fear, a lot of anxiety, and many times the biggest issue is not knowing who to believe or trust. The amount of information on the internet and from friends and relatives can be overwhelming, and often not specific or accurate to the patient.
I went into oncology because I found it very challenging and because I have a passion for fighting cancer. It's constant change, constant progress and constant evolution of a science towards a cure. Hope is the fuel for oncologists and most certainly for me.
That's how I do this job; by continuing to strive for excellence in the care of my patients, by treating them like my own family and by believing that science will solve this terrible disease, one clinical trial at a time.
Treatments Provided
Hematologist
Medical Oncologist
Medical School
University of Miami – Miami, FL
Residency
Jackson Memorial Hospital – Miami, FL
Board Certified
Internal Medicine
Hematology
Medical Oncology
Dr. Frank Rodriguez - Florida Cancer Specialists & Research Institute