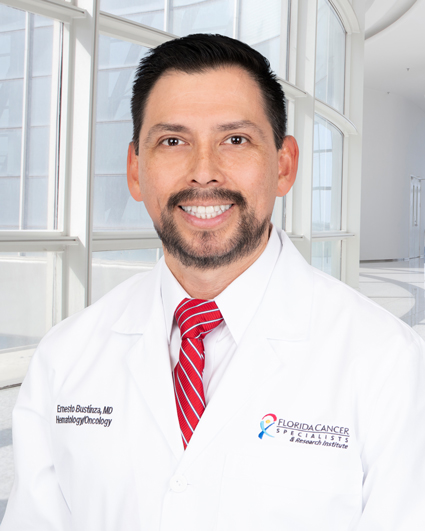 Ernesto Bustinza-Linares, MD
Dr. Ernesto Bustinza-Linares joined Florida Cancer Specialists in 2015. He is Board-certified in Medical Oncology and Hematology.
Recognized for his avid interest in research, with particular focus on targeted therapies, breast cancer and GI malignancies, Dr. Bustinza-Linares has presented his findings at several statewide and national meetings of noted organizations including the American College of Physicians, American Medical Association and American Society of Clinical Oncology. He authored a book chapter regarding the Biology of Gastrointestinal Stromal Tumors (GIST) for the new edition of the Textbook of Sarcoma Oncology and has been published in prestigious international journals such as Journal of Clinical Oncology and Mexican Journal of Clinical Pathology.
After receiving his medical degree from the Universidad Nacional San Agustin in Arequipa, Peru, he completed an internship in Internal Medicine at Texas Tech University Health Science Center in El Paso and a clinical residency in Internal Medicine at the University of Miami, Jackson Memorial Hospital/Miller School of Medicine in Miami, Florida. He was named a clinical research fellow in investigational cancer therapeutics at the University of Texas at Houston, MD Anderson Cancer Center and later returned to the University of Miami, Jackson Memorial Hospital/Sylvester Cancer Center to complete a Hematology/Oncology fellowship.
Originally from Peru, Dr. Bustinza-Linares is fluent in both English and Spanish.
Call one of our offices to make an appointment with Dr. Bustinza:
Treatments Provided
Hematology
Medical Oncology
Locations
Medical School
Universidad Nacional San Agustín, Arequipa – Perú, Medico-Cirujano, Arequipa – Peru
Residency
Internal Medicine – University of Miami, Miller School of Medicine, Jackson Memorial Hospital, Miami, FL
Fellowship
Oncology/Hematology – Sylvester Cancer Center – Completed University of Miami / Jackson Memorial Hospital, Miami, FL
Investigational Cancer Therapeutics – Phase I – MD Anderson Cancer Center – University of Texas at Houston, Houston, TX
Board Certified
Medical Oncology
Hematology
Professional Affiliations
American Medical Association
American Society of Clinical Oncology
American Association for Cancer Research
Minorities in Cancer Research (MICR)
Cancer Immunology Society (CIMM)
American Society of Hematology (ASH)
Florida Cancer Specialists - Ernesto Bustinza-Linares, MD
Gene Davenport Testimonial - Dr. Ernesto Bustinza-Linares' Patient - Florida Cancer Specialists