Transcending
Value-Based Oncology Care
Florida Cancer Specialists & Research Institute (FCS) has been steadfast in its efforts to reinvent the approach to cancer care through a patient-centric focus while seeking new methods to reduce costs at the same time, improving the quality of care.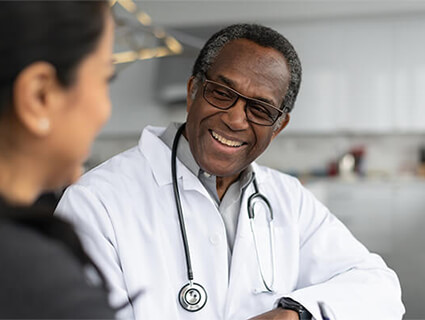 Our Vision for
Value-Based Care
Moving from traditional payment models, where services are reimbursed fee for service, developing methods to improve quality and decrease the cost of care at FCS is critical for maintaining our mission of providing comprehensive patient-centered care at cost effective rates.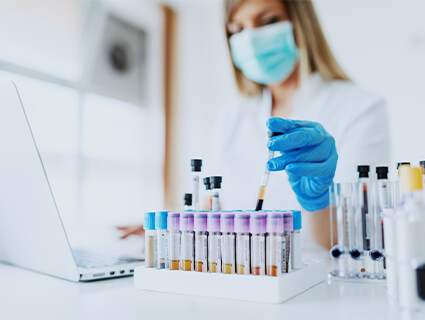 Case Studies
FCS continues to lead value-based oncology care efforts on a national, state-wide and local scale by reducing health care expenditures while positively impacting quality, access and patient outcomes.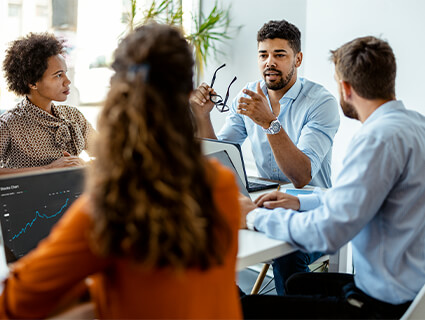 Strategic Partners
We are continually seeking opportunities to add value in each patient interaction and are proud to partner with a variety of like-minded partners to ensure we reach our entire patient population.
"Exceptional, value-based cancer care centered around our patients is the core of our organizational mission and a fixed focus we will never waiver from."
Nathan H. Walcker
Chief Executive Officer
Florida Cancer Specialists & Research Institute
Creating Value at Every Touchpoint
Across the practice, FCS purposefully creates value with each patient interaction. Processes and systems are in place that promote communication and collaboration between providers, both within and outside of FCS, to ensure continuity of care. In-house pathology laboratories and pharmacies greatly impact not only cost but timeliness to care. Our patients have access to a comprehensive care team of medical and radiation oncology specialists, pharmacists, nutritionists and behavioral health professionals to specifically address their individual needs. Additionally, by adding our enhanced care coordination services, we have deployed patient navigation resources and streamlined processes and designed to support the patient.
Efforts over the past several years, to reduce medical expenses in the oncology space have steered our practice to create an infrastructure that not only enhances quality but that reduces the cost of care. Through shared information and innovative technology, we are able to minimize duplicative processes, tests and diagnostics, and utilize state-of-the-art testing, such as next generation sequencing, to improve precision and ultimately reduce delays in timely care. Additionally, the availability and utilization of biosimilar drugs and generic therapeutics has allowed our providers to continue offering clinically equal treatment at a significantly lower cost. As a community-based oncology practice, our patients benefit from receiving exceptional quality care, close to home, without the added expense and discomfort of travel.
Consistent Results, Proven Models
With focus on the patient experience and while maintaining the highest quality patient care and access, FCS was named a top performing participant in the Oncology Care Model (OCM) sponsored by the Centers for Medicare & Medicaid Innovation (CMMI). Throughout the entirety of the program, efforts by FCS to reduce the cost of care resulted in a reduction of expenditures amounting to more than $210 million, and more than $98 million in net savings to the Centers for Medicare/Medicaid Services (CMS). In the final reported payment period for the program, CMMI shared that FCS hospital admission expenditures were 18.3% lower than those of other OCM-enrolled practices and, in that same period, FCS had 29.1% fewer expenditures related to emergency room visits. Paired with the utilization of biosimilars, during its final reconciliation period, FCS successfully created approximately $24 million in net savings to CMS.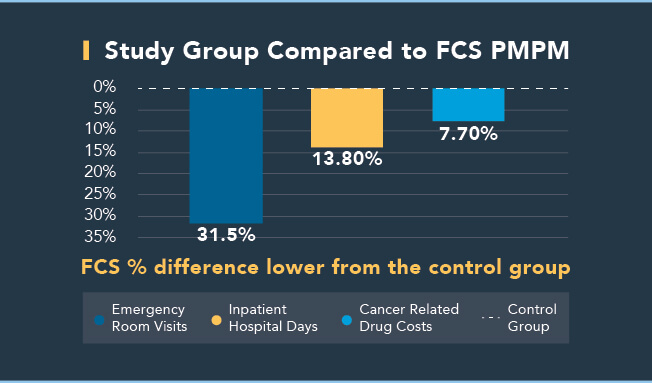 Leveraging Advancements to Improve Care and Reduce Costs for Medicare Cancer Patients
A collaboration with CVS Health/Aetna to integrate cancer care advancements within a value-driven framework improved quality and cost savings for Medicare patients enrolled in the insurer's Oncology Medical Home Program.
The initiative integrated next-generation sequencing capabilities, the use of biosimilar drugs and access to clinical trial research programs into the cycle of care for patients diagnosed with 18 specific cancers.
The partners shared accountability for achieving defined measurements in quality and cost savings.
In the first year of the program, January 2021 – January 2022, the partners shared accountability for achieving defined measurements in quality and cost savings ( as compared to a control group) that included:
8% decline in inpatient hospital stays
4% fewer emergency room visits
7% reduction in drug costs
The partners are planning for subsequent phases of the program, refining utilization and quality metrics to ensure that patients can achieve the most favorable outcomes with the consistent availability of high-quality, cost effective care throughout their cancer journey.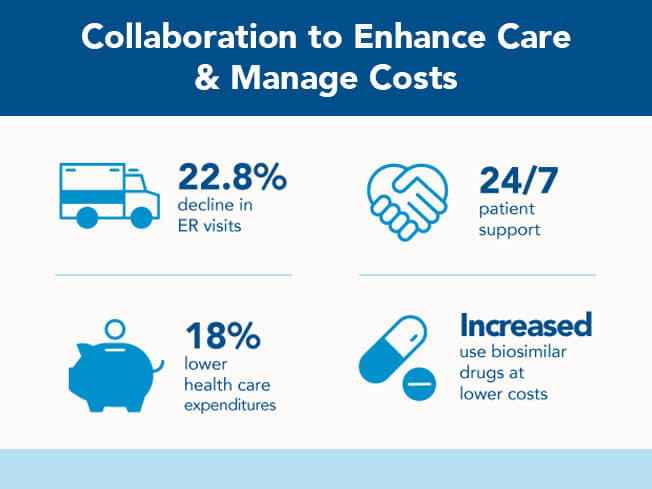 Florida Blue
The first four years of an Accountable Provider Organization (APO) partnership with Florida Blue yielded favorable results for the attribution model developed collaboratively by both parties. Over the course of the program, FCS and Florida Blue have not only enhanced the quality of care delivered but have also improved access and achieved substantial cost savings (as measured by per member per month costs when compared against the market). The fourth year proved to be the most successful when comparing results against the market:
Total cost of health care: 18% lower
Emergency room visits: down 22.9% (Market: down5.4%)
Additional clinical thresholds were met during this time, as well:
Clinical staging provided prior to receiving treatment: 91.5%
Aromatase prescription during six-month measurement period for T1b – IIIC, ER or PR + breast cancer patients: 85.3%
Qualified pain scale screening: 96.1%
Together, FCS and Florida Blue will continue to evolve the program by focusing on high-quality, cost-effective, comprehensive care to deliver favorable outcomes for patients.
The Future of Value-Based Care at FCS
FCS will continue to leverage value principles and the infrastructure derived from OCM and its value-based partners and expand the scope of its own value-based care programs to support the long-term objective of consistent, high-quality treatment at a rate that is affordable. To do so, the practice will continuously refine patient education libraries and materials, supply expanded resources for after-hours symptom management, and ancillary services like nutritional health and behavioral health to improve access and reduce care costs through the use of generic and biosimilar drugs when possible.
Talk to a member of our value-based care team: VBC@FLCancer.com