Invest in Your Future
With a community oncology practice at the forefront of science and research.
Florida Cancer Specialists & Research Institute (FCS) is a leader in community-based cancer care. We are at the forefront of science and research — providing the most advanced treatment options available, tailored for each patient's unique genetic makeup, lifestyle factors, and needs.
About FCS
World-class Oncology and Hematology Provided Close to Home
Florida Cancer Specialists & Research Institute (FCS) has built a national reputation for providing world-class cancer care in community settings. At nearly 100 locations throughout Florida, our team of more than 250 physicians and 220 advanced practice providers, supported by more than 4,000 team members, share a commitment to delivering exceptional and compassionate patient care for all forms of cancers and blood disorders, with specializations in:
Breast cancer
Cancer rehabilitation
Clinical trials research
Endovascular surgery
Genetics
Gynecologic cancers, disorders and surgery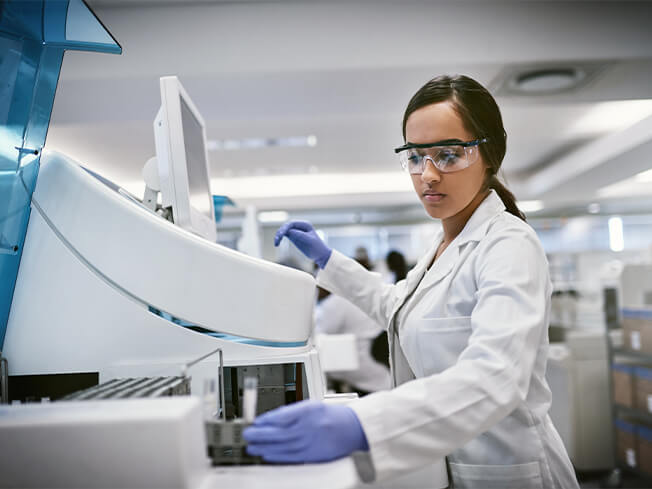 Our Practice Model
Committed to excellence
FCS sets the gold standard for community oncology. Our primary purpose – and our passion – is to provide convenient access to the most advanced cancer treatment, encompassing innovative clinical research, cutting-edge technologies, targeted therapies, genomic-based treatment, and immunotherapy.
Our state-of-the-art facilities incorporate evidence-based design to maximize provider efficiencies and create a patient care environment that reduces stress and aids in achieving optimal outcomes.
Centralized clinical ancillaries are seamlessly integrated into patient care, with ready access to diagnostic imaging, centralized pathology laboratory and in-house specialty pharmacy, radiation and interventional radiology, and 24/7 care coordination.
Across our practice we provide genetic counseling, supportive care, oncology nutrition, and behavioral health therapies to help ease stress for patients and families and improve their overall quality of life.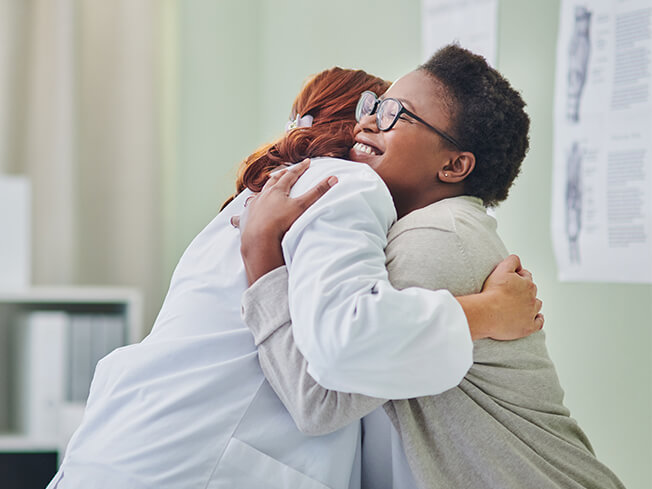 Our Mission, Vision & Values
Driven by a shared purpose
Our mission, vision and core values form the foundation of who we are and provide constant guidance in everything we do. At all times, our promise is centered around those who entrust their care to us.
Mission Statement: Centered on you, inspired by hope, powered by science and innovation.
Vision: To be the world-class center of cancer care, delivering innovation, excellence and personalized experience to patients in the communities we live and serve.
Values: At all times, our promise is centered around those who entrust their care to us. This is our PACT: Patients First, Accountability, Commitment, Team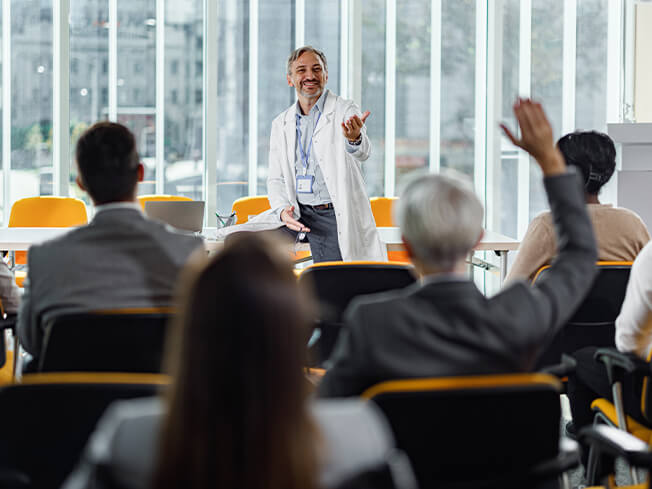 Setting the standard for clinical research in the community oncology setting
Through our long-standing strategic partnership with Sarah Cannon Research Institute, one of the leading clinical trial organizations in the world, FCS is able to offer more access to national clinical trial research than any community oncology practice in the state. Rivaling most academic medical centers, our statewide network offers access to nearly 300 Phase 1, 2, and 3 clinical trials in nearly 40 locations, without the need for long-distance travel.
Over the past five years, the vast majority of new drugs for cancer have been evaluated in FCS clinical trials prior to approval for use in the U.S.  Each year, dozens of clinical studies are published by our physicians and clinicians and presented at prestigious statewide, national, and international medical summits and conferences.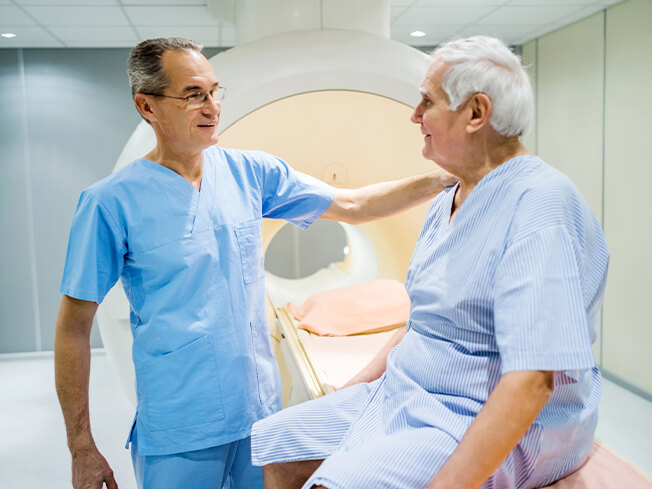 Ranked among top performing oncology practices
FCS is the only community oncology practice recognized as a Blue Distinction Center for Cancer Care in Florida. Through our participation in the Oncology Care Model and other innovative payment programs with CMS and major health care insurers, we continue to advance initiatives that are helping to contain health care costs and improve the quality of cancer care. FCS is consistently ranked among top performing oncology practices in the country for quality and cost saving measures, demonstrating our commitment to results with value-based, patient centric care initiatives.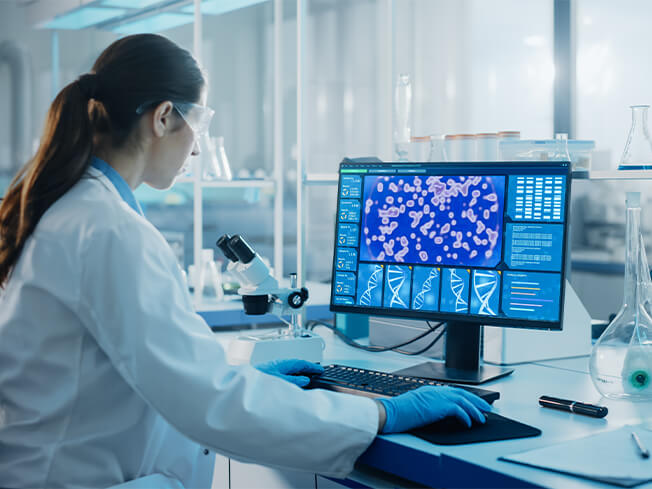 Technology Initiatives
We continue to make investments in cutting-edge technologies. Our Pathology Laboratory recently added next generation clinical testing capabilities that detect mutations in hundreds of different genes simultaneously. FCS continues to invest in new IT infrastructure initiatives that optimize workflow, data security, and clinical decision support across the practice.

FCS Hematology / Oncology Review
FCS physicians stay up to date with FCS Oncology Insights, an online collection of the most recent and relevant national publications for new and advancing oncology treatments.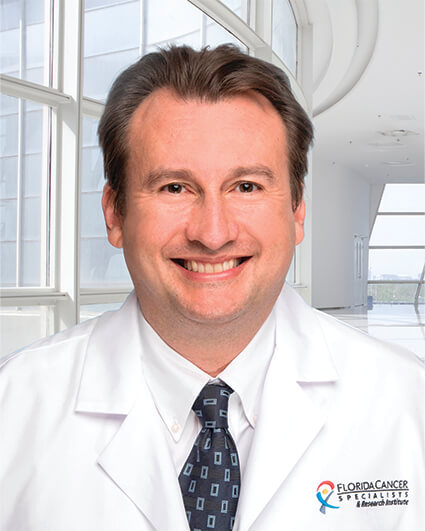 Joining FCS
President's Message
As one team, my physician colleagues and I share a commitment to one mission – delivering world-class cancer care in community settings, where patients are close to home and loved ones and can receive the personalized care they need with minimal disruption to their daily lives.
We support our patients and their families through every step of their cancer journey.  Every interaction is expertly and precisely focused on the patient's experience and well-being to achieve the best possible outcome.
Practice-wide, we embrace innovation and collaboration to advance and transform cancer care. Our research is contributing to significant advancements in cancer treatment and prevention, immunotherapy, precision medicine, and many other areas.
I invite you to learn more about the many opportunities and benefits of joining our independent, physician owned practice that include limitless growth opportunities to be part of the evolving landscape of new discoveries in cancer treatment, robust educational development and training opportunities, and schedules that allow for work-life balance.
We invite you to invest in your future with FCS and to grow with us.
Lucio N. Gordan, MD
President & Managing Physician
Physician Leadership
Trained in prestigious medical schools and research institutes around the globe, FCS physicians are consistently ranked nationally as Top Doctors by U.S. News & World Report and others. Our physicians provide leadership and consultation in the state's leading hospitals and also hold board and leadership positions with well-respected statewide and national organizations.
Our oversees the strategic direction and operational decision-making for our state-wide practice, ensuring that we are serving our patients by meeting the highest ethical and clinical standards across our industry.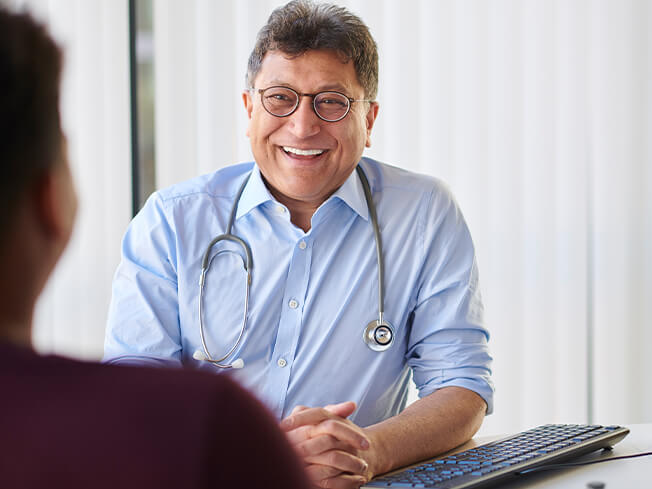 A few reasons to consider employment with FCS
Competitive Pay
Comprehensive Benefit Package
Wellness
Education Support
Relocation Support
Current Opportunities
Board-certified/eligible candidates who have completed or will complete their fellowship are encouraged to apply.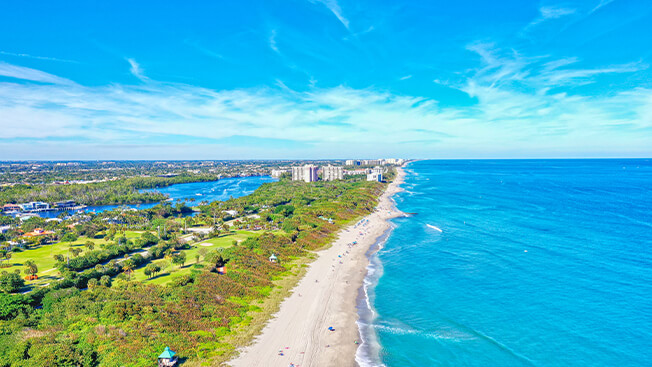 Make Florida Your Home
While many people relocate to Florida to take advantage of the sunny climate and no state income taxes, there are many other compelling reasons to make Florida your home. Florida is the fourth most populous state in the US and home to many of the world's largest companies. With 21 airports throughout the state, including 16 international airports, it is an easily accessed global destination with something for everyone.
Central Florida
FCS operates six sites throughout Orange County. The Orlando downtown and Winter Park offices are situated in medical buildings; our Oviedo office is free-standing. The Altamonte and Orlando Orange office suites are located on hospital campuses. The Lake Nona Medical City contains several centers for biomedical research and medical education, including the University of Central Florida.
Home to more than a dozen theme parks, including Walt Disney World, Orlando is one of the country's most popular travel destinations with more than 70 million visitors annually. It is also the third fastest growing city in the U.S.
Nicknamed 'The City Beautiful,' sunny Orlando is known for hot, humid summers and mild winters. Residents enjoy a mix of urban and suburban amenities, and public transit options make it easy to get around without a car. With more than 100 lakes and 100 parks, family friendly activities are plentiful. In addition to the Orlando Magic professional basketball team, sports of all kinds are popular. The University of Central Florida is located here, and the public school system is highly rated.
Located just six miles south of downtown, the Orlando International Airport is a major gateway, with more than 850 daily flights on 44 airlines serving 135 domestic and international destinations.
Lake Nona is a 17-square-mile planned community within the city limits of Orlando. Named for a large lake at the community's north end, it's known for its sparse suburban feel and easy accessibility to Downtown Orlando (15 miles), the Orlando International Airport (6 miles), as well as glorious Florida beaches along the Atlantic Ocean or the Gulf of Mexico less than an hour away.
Citrus County
FCS operates three offices in Citrus County, located in Crystal River, Inverness, and Lecanto, and nestled on Florida's Gulf Coast, located 70 miles north of Tampa and 60 miles north west of Orlando.
With its warm Gulf waters, spring fed rivers, bountiful lakes, an archaeological state park and a state forest, the area is a top choice for water and outdoor adventure lovers and eco-travelers. It's also known as the manatee capital of the world.
Florida Gold Coast
FCS operates five locations in Palm Beach County, three of which are situated in medical office park settings in the communities of Atlantis, Palm Beach Gardens, and Wellington. Our West Palm Beach office is located in the Cancer Center adjacent to Good Samaritan Medical Center/Hospital.
Delray Beach is one of 39 cities and towns within the sprawling Palm Beach County, FL – the largest county southeast of the Mississippi River. Bordered by the Atlantic Ocean to the east and Lake Okeechobee to the west, there's no shortage of things to do. Delray Beach is famous for its lively main street, thriving arts scene, and interesting cultural heritage.
Lee County
FCS currently operates five locations in Lee County, including the Fort Myers Cancer Center and the Cape Coral Cancer Center.
Lee County is the birthplace of Florida Cancer Specialists. Fort Myers, the county seat, is home to FCS corporate offices and regional research office, as well as Rx To Go, the FCS in-house specialty pharmacy, and our state-of-the-art pathology laboratory that serves the entire statewide practice.
Situated along the Gulf Coast in Southwest Florida, Lee County is a major tourist destination and a gateway to pristine beaches, outdoor adventures, and thriving economic and business communities. The barrier islands of Sanibel and Captiva offer some of the most beautiful beaches and natural habitats in the state; the Six Mile Cypress Slough Preserve boasts over 3,500 acres of a wetland ecosystem with a boardwalk trail and interpretive center.
Treasure Coast
FCS operates four clinics in the three counties that comprise Florida's Treasure Coast along the Atlantic Ocean, just north of West Palm Beach. In the 18th century, several Spanish galleons carrying quantities of gold and silver were shipwrecked by hurricanes in the area. Subsequently, some of the treasure was recovered and the stories of these findings gave rise to the region's name.
The area enjoys a moderate climate, with an average temperature of 74 degrees. Agriculture, citrus in particular, is the largest industry.  A hub for water sports, with a number of marinas and boat launches, it is known as one of the best places in the U.S. for surfing, diving and snorkeling. Nature preserves are also plentiful as are some of the state's most exclusive private golf clubs.
An easy to reach destination, Indian River County is conveniently located halfway between Miami and Jacksonville and directly across the state from Tampa, and approximately 90 minutes  hour from Orlando and Palm Beach.
Our Stuart clinic in Martin County is the perfect example of how FCS brings world-class cancer care to small and rural communities. Stuart offers much in the way of coastal living, including a quaint, historic downtown and waterfront district where with unique galleries, cafes, gourmet restaurants, and shops.
North Central Florida
FCS operates five clinic locations in Florida's North Central region, including Gainesville, the region's largest city, and Ocala, its largest metropolitan area.
The region is notably different than other areas of Florida. The climate is mild throughout the year and freezing temperatures are common in winter. With numerous rivers, lakes, and natural springs , nature and nature parks are a major attraction. The landscape has gently rolling hills with pine forests and magnolia trees, and its many smaller towns reflect the culture of the Deep South.
Gainesville is home to the University of Florida and its stadium for the popular Florida Gators. Ocala, located in Marion County, is internationally renowned as the "Horse Capital of the World®", and is home to more horses and ponies than any other county in the U.S. and provides. World-class equestrian events are held throughout the year. The Gainesville Regional Airport is served by several major airlines and offers direct flights to major U.S. cities.
Additionally, FCS operates four clinic locations in The Villages. This vibrant over-55 master planned retirement community is located 22 miles south of Ocala and spans 32 square miles across three counties. With 50 golf courses, three town squares and countless amenities, it sets the perfect environment for over 125,000 residents to enjoy.
Sarasota & Manatee County
One of the fastest growing communities in Florida, FCS currently operates eight clinic locations in the two counties, with plans for continued expansion. All clinics are situated in free-standing buildings, most often occupied primarily or solely by FCS.
In Sarasota, FCS established the first of its three Sarah Cannon Research Institute at FCS Drug Development Units, focusing exclusively on Phase 1 clinical trials, which are most often first in human.
Sarasota is located on Florida's Gulf Coast just 60 miles south of Tampa. With miles of shoreline and some of the best beaches in America, outdoor activities are endless. And with vastly diverse dining, arts and cultural offerings and shopping districts, residents of Sarasota get to vacation right where they live. Lakewood Ranch, located in Manatee County, is the largest multi-generational planned community in the U.S.
Tallahassee
FCS offers comprehensive oncology and hematology care and specialized gynecologic oncology care and surgery at two locations in Tallahassee.
Tallahassee is Florida's capital city. Its subtropical climate allows residents to enjoy a taste of all four seasons. With an urban-suburban mix and feel, Tallahassee offers great outdoor recreation with over 700 miles of biking trails, a vibrant arts and culture scene, and lots of family-friendly activities. When compared to other metropolitan areas in Florida, housing and the cost of living is lower; schools are rated above average in quality.
Tampa Bay Region
Six counties comprise the Tampa Bay region on Florida's Central West Coast: Citrus, Hernando, Hillsborough, Manatee, Pasco and Pinellas, which encompass numerous FCS locations including Bradenton, Clearwater, Largo, New Port Richey, Pasadena, St. Petersburg, Tampa, Spring Hill and several more.
The area is famous for its Gulf Coast beaches and miles of inland waterways, which attract tourists from all over the world. The year-round weather is warm, making it easy to enjoy all forms of outdoor activities on and off the water. The area boasts many highly rated arts and cultural attractions and a robust calendar of festivals.
Tampa is Florida's third most populous city, the state's primary west coast port, and home to three Fortune 500 companies.  It is also home to three major professional sports teams – the Buccaneers (NFL), Lighting (NHL), and Rays (MLB), as well as several college and minor-league teams.
The region offers easy access to all areas of Florida through well connected interstates,  roadways, and waterways.  Over 20 major airlines serve the Tampa International Airport, which offers daily domestic and international flights.