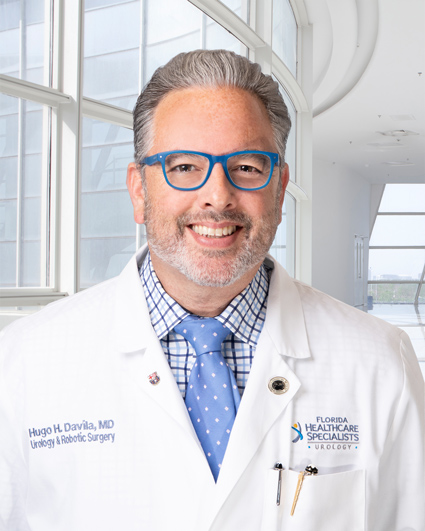 Hugo Davila, MD
A board-certified urologist and Clinical Assistant Professor at Florida State University, College of Medicine, Dr. Hugo Davila completed his surgery and urology training at University of South Florida and Moffitt Cancer Center.  He currently practices at Florida Healthcare Specialists (an affiliate practice of Florida Cancer Specialists & Research Institute) and Cleveland Clinic Indian River Hospital.
Dr. Davila is a leading physician researcher, having previously completed clinical studies on fibrosis, aging and nitric oxide, which were published in prestigious journals, such as Biology of Reproduction, Cardiovascular Research, Urology and British Journal of Urology. In 2004-5, Dr. Davila was awarded a Pfizer research grant about the "Effects of long-term therapy with Sildenafil on the histological and functional alterations of the aged corporal tissue; implications for reversal of corporal veno-occlusive dysfunction."
His most recent investigations have included the evaluation of robotic surgical techniques and pelvic floor ultrasonography for the correction of pelvic organ prolapses, with several publications in the Urology gold journal, Journal of Robotic Surgery and Journal of Obstetrics and Gynecology. Recently, Dr. Davila described a robotic and laparoscopic single site approach to apical prolapses using native tissue. He also presented a new robotic technique without mesh for pelvic organ prolapses at the European Association of Urology.
An active member of the American Urology Association (AUA), European Association of Urology (EAU), Society of Robotic Surgery (SRS) and Latin-American Society of Pelvic Floor (ALAPP), he has a special interest in female pelvic medicine and reconstructive surgery; his most recent publications in the Journal of Robotic Surgery and Urology Gold Journal describes a new approach using ultrasonography assisted robotic surgery with pubocervical fascia plication and the description of the pubocervical fascia injury on 3D endovaginal ultrasound. He has presented multiple videos, podium and posters at the AUA, EAU, SRS and many international meetings.
Treatments Provided
Surgical Oncologist
Urologist
Locations
Benign Prostatic Hyperplasia (BPH) Webinar, featuring Dr. Hugo Davila, FHS Board-certified Urologist
FCS Urologist Provides Free Webinar on Erectile Dysfunction & Stress Urinary Incontinence
FCS Urologist Dr. Hugo Davila Disccuses Prostate Cancer & Treatment Options
Pelvic Organ Prolapse Awareness Month
FCS Urologist, Dr. Hugo Davila, Talks Pelvic Organ Prolapse
Meet Dr. Hugo Davila, Urologist - Florida Healthcare Specialists
Benign Prostatic Hyperplasia (BPH) Webinar
Prostate Cancer & Treatment Options
Dr. Hugo Davila , Urologist - Florida Healthcare Specialists
Loren Hockensmith - Patient Testimonial
Signs, Symptoms and Treatment Options for Erectile Dysfunction and Urinary Incontinence