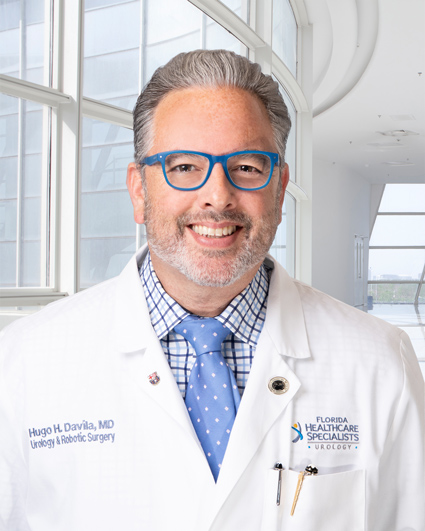 Hugo Davila, MD
Hugo Davila, MD is a board-certified urologist with Florida Healthcare Specialists, an affiliate practice of Florida Cancer Specialists & Research Institute (FCS). He provides care to patients at two locations in Vero Beach, Florida.
Dr. Davila provides comprehensive urology care, including non-cancer treatments, for men and women. He has a special interest in female pelvic medicine and reconstructive surgery. Dedicated to increasing awareness of causes, symptoms and advanced treatment options for various conditions, he regularly offers free health education webinars and responds to frequent requests to share his insights and expertise through the news media.
A leading physician-researcher, Dr. Davila has completed numerous clinical studies and is the recipient of several research grants. Notable investigations have included the evaluation of robotic surgical techniques, laparoscopic approaches and pelvic floor ultrasonography for the correction of pelvic organ prolapses and other urologic conditions. His work has been published in prestigious journals, including the Urology Gold Journal, Journal of Robotic Surgery, the Journal of Obstetrics and Gynecology and the British Journal of Oncology. He has presented multiple advanced robotic techniques, videos and presentations at national and international symposiums.
In addition to his clinical practice, Dr. Davila serves on the medical staff of Cleveland Clinic Indian River Hospital and as a clinical assistant professor at Florida State University College of Medicine.
Dr. Davila completed his surgery and urology residency training at the University of South Florida College of Medicine and Moffit Cancer Center in Tampa. He was awarded fellowships in urology at the University of California at Los Angeles School of Medicine and at Cornell University in New York.
He is an active member of the American Urology Association, European Association of Urology, Society of Robotic Surgery and Latin-American Society of Pelvic Floor.
Dr. Davila believes that listening to his patients his key, and he encourages them to be open and candid. By having a clear understanding of everything going on in their lives, he is better able to diagnose and recommend the best and most personalized course of action to address their medical concerns.
Treatments Provided
Surgical Oncology
Urologist
Locations
How to Choose Prostate Cancer Treatment: Patient-Focused Webinar
Benign Prostatic Hyperplasia (BPH) Webinar, featuring Dr. Hugo Davila, FHS Board-certified Urologist
FCS Urologist Provides Free Webinar on Erectile Dysfunction & Stress Urinary Incontinence
Pelvic Organ Prolapse Awareness Month
FCS Urologist, Dr. Hugo Davila, Talks Pelvic Organ Prolapse
Meet Dr. Hugo Davila, Urologist - Florida Healthcare Specialists
Dr. Hugo Davila , Urologist - Florida Healthcare Specialists
Loren Hockensmith - Patient Testimonial
Signs, Symptoms and Treatment Options for Erectile Dysfunction and Urinary Incontinence