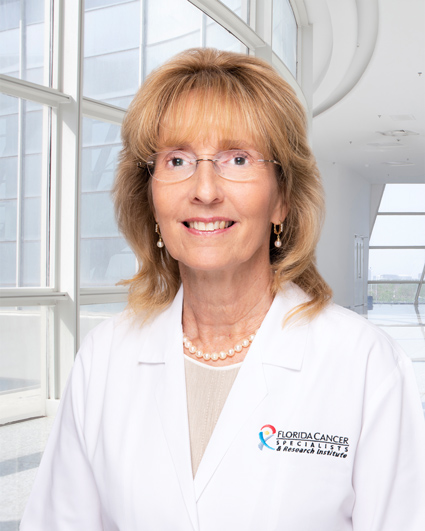 Gail Lynn Shaw Wright, MD, FACP, FCCP
Board-certified medical oncologist Dr. Gail Wright considers herself fortunate to have been involved in the many dramatic scientific advancements that make the field of oncology so exciting. Throughout her career she has played an active leadership role in clinical trials research, with a special focus on early detection, genetics and lung and breast cancer. Her work has been presented at numerous national and global symposiums, and published in books and notable professional journals.
Dr. Wright loves taking care of her patients and is gratified to be able to offer them the many new therapies that are now available and continue to evolve. "These life-changing treatments have totally changed the expectations for patients with many forms of metstatic cancers," she notes.
After receiving her medical degree from the University of North Carolina at Chapel Hill, Dr. Wright completed her residency training in Medicine at Duke University, where she was named as junior and senior assistant resident. She completed a fellowship in Medical Oncology at the National Cancer Institute in Bethesda, Maryland.
Dr. Wright has held numerous hospital and academic positions and appointments. From 1991 to 1994, Dr. Wright served as a surgeon and senior staff member with the U.S. Public Health Services, National Cancer Institute, National Institute of Health in Bethesda.  The prestigious program prepares medical professionals for service at home and abroad. She also was an attending physician at the Naval Hospital Bethesda and at H. Lee Moffitt Cancer Center & Research Institute in Tampa, Florida.
Prior to joining Florida Cancer Specialists in 2012, Dr. Wright provided oncology care in private practice in Hudson, Florida and Savannah, Georgia.
Treatments Provided
Hematology
Medical Oncology
Locations
Medical School
University of North Carolina – Chapel Hill, NC
Residency
Duke University Medical Center – Durham, NC
Fellowship
National Cancer Institute – Bethesda, MD
Board Certified
Medical Oncology
Internal Medicine
Dr. Gail Wright Physician Spotlight - Florida Cancer Specialists & Research Institute
Linda Budzilek Patient Testimonial - Dr. Wright - Florida Cancer Specialists