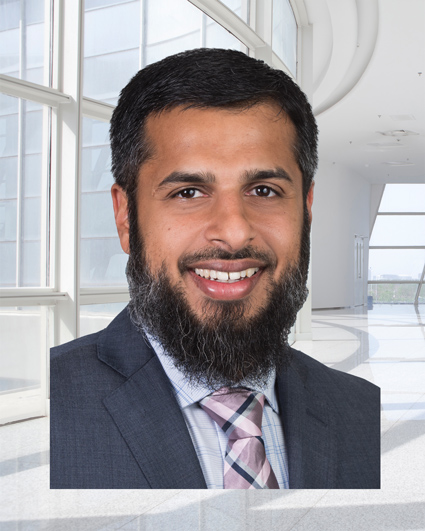 Muhammad Imam, MD
Dr. Muhammad "Hassan" Imam was born in Santa Barbara, California, but grew up most of his life in Deltona, Florida. He was valedictorian of his high school and graduated Summa Cum Laude from the University of Miami. Dr. Imam joined Florida Cancer Specialists after completing his Fellowship in Hematology/ Oncology at the University of Texas Southwestern in Dallas. He actively participates in clinical trials research. His work has been published in several industry journals, During, including Leukemia & Lymphoma and the prestigious American Journal of Clinical Oncology. He is Board-certified in Medical Oncology, Hematology and Internal Medicine.
Dr. Imam describes being an oncologist as a special honor. He values the opportunity to assist his patients through their cancer journey, taking advantage of all the resources and forms of treatment to enable them to find relief and live their lives to the fullest.
In addition to being a husband and father of two children, Dr. Imam is a co-founder of Project Downtown, a non-profit organization that serves the homeless and needy populations in over 20 cities nationwide. Project Downtown began several years ago as an informal initiative by a group of students at the University of Miami who were determined to make a difference in the lives of these individuals.
Treatments Provided
Hematologist
Medical Oncologist
Locations
Medical School
University of South Florida College of Medicine- Tampa, FL
Residency
Emory University – Atlanta, GA
Fellowship
Hematology/Medical Oncology
University of Texas Southwestern – Dallas, TX
UTSW St. Paul University Hospital
Parkland Memorial Hospital
UTSW Zale-Lipshy Hospital
Board Certified
Internal Medicine, Medical Oncology and Hematology
Honors & Achievements
Emory Internal Medicine Residency Award for Excellence in Primary Care
Hematology PCR, Lecturer for Malignant Hematology
Professional Affiliations
American Society of Clinical Oncology
American Society of Hematology
Founder of non-profit organization: Project Downtown
April Santini Patient Testimonial - Dr. Muhammad Imam, Florida Cancer Specialists
Dr. Muhammad Imam Physician Spotlight - Florida Cancer Specialists
Laura & Edward Baldwin Patient Testimonial - Dr. Muhammad Imam, Florida Cancer Specialists