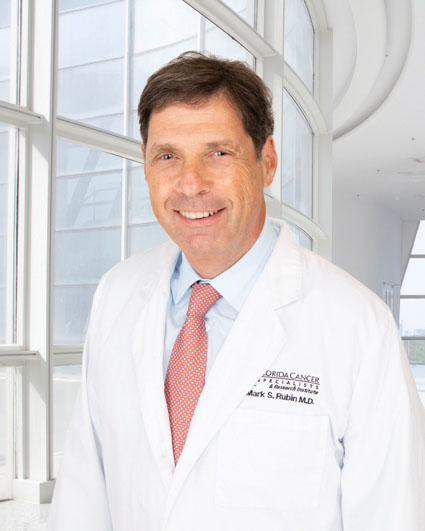 Mark S. Rubin, MD
While in his final year of college at Harvard University, Dr. Mark Rubin was considering a career in either law or medicine. He made his choice shortly after his sister was diagnosed with acute leukemia. Oncology provided him the opportunity to help heal people.
Throughout his career, Dr. Rubin has worked alongside cancer experts whose research has contributed to what he calls "the revolution in understanding cancer cell dynamics" and has led to the development of targeted therapies that he is able to personalize for his patients with great precision to achieve the best possible outcomes.
Dr. Rubin revolutionized the care of colon cancer with his development of targeted therapy (Erbitux) based on his cell receptor signaling research at Memorial Sloan-Kettering Cancer Center and presented at the national oncology conference of the American Society of Clinical Oncology (ASCO). He also wrote and developed OncoEMR, which is the leading community oncology electronic medical records system in the United States, and through his efforts enhanced and streamlined the care of cancer patients nationally.
After graduating Magna Cum Laude from Harvard, Dr. Rubin attended medical school at the College of Physicians & Surgeons at Columbia University in New York, NY. He completed Internal Medicine residency training at UCLA Medical Center in Los Angeles, CA and a fellowship in Hematology and Oncology at Memorial Sloan-Kettering Cancer Center in New York, NY.
Dr. Rubin has extensive experience as a principal investigator and sub-investigator on numerous Phase I, II and III clinical research trials. He joined Florida Cancer Specialists in 1994 and served as Director of Clinical Research from 1998-2002.
Dr. Rubin is Board-certified in Medical Oncology, Hematology and Internal Medicine. He has been named as a Top Doctor in Southwest Florida by Castle Connolly since 2004.
Treatments Provided
Hematologist
Medical Oncologist
Locations
Education
Undergraduate: Harvard University
Fellowship
Oncology/Hematology – Memorial Sloan-Kettering Cancer Center
Board Certified
Internal Medicine, Medical Oncology and Hematology
From Poor Prognosis to Living His Best Life
Dr. Mark Rubin & Patient Eileen Iovine - Florida Cancer Specialists & Research Institute