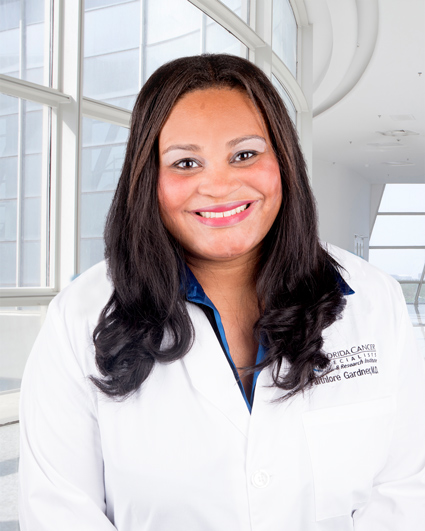 Faithlore Gardner, MD
Dr. Gardner received her medical degree from the University of South Florida, Tampa, FL. She completed her medical residency at Vanderbilt University and in 2011 began her hematology and oncology fellowship at the Mayo Clinic.
Dr. Gardner has over ten years of research experience. Her work on primary uveal melanoma has been both published and presented within the medical community, including the 23rd Annual Mayo Clinic Hematology/Oncology Review and the 2013 Society of Melanoma Research. In her spare time, Dr. Gardner enjoys reading, traveling, and collecting stamps and postcards.
Treatments Provided
Hematologist
Medical Oncologist
Locations
Medical School
University of South Florida – Tampa, FL
Residency
Vanderbilt University – Nashville, TN
Fellowship
Oncology/Hematology: Mayo Clinic
Board Certified
Internal Medicine
Medical Oncology
Honors & Achievements
23rd Annual Mayo Clinic Review
2013 American Society of Clinical Oncology (ASCO) Genitourinary Conference
2013 Society of Melanoma Research Congress
2014 ASCO Annual Conference
Professional Affiliations
American College of Physicians
American Medical Association (AMA)
American Society of Clinical Oncology
American Society of Hematology
Dr. Faithlore Gardner & Patient - Florida Cancer Specialists & Research Institute