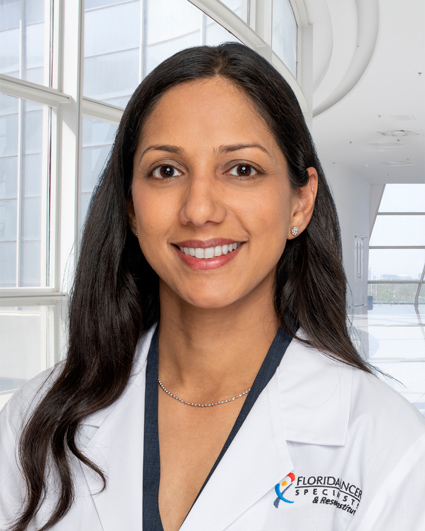 Rina Patel, MD
Board-certified in internal medicine, hematology and medical oncology, Dr. Patel received her medical degree from Case Western Reserve University School of Medicine in Cleveland, OH. She completed her internal medicine training in the Osler Medical Residency Program at The Johns Hopkins Hospital and later completed a fellowship in medical oncology/hematology at the Sidney Kimmel Comprehensive Cancer Center, also at The Johns Hopkins Hospital. During her medical training, Dr. Patel was awarded an Oncology T32 training grant for the study of molecular targets for cancer detection and treatment.
Having participated in numerous clinical research activities, from 2013 to 2015, Dr. Patel participated in the design and implementation of early-phase clinical trials for the treatment of gastrointestinal malignancies. She is the co-author of numerous papers and abstracts published in clinical journals. She served as a member of the Tumor Board at The Johns Hopkins University School of Medicine from 2014 – 2015.
Before joining Florida Cancer Specialists, Dr. Patel served as a staff physician in the Medical Oncology and Hematology division at Greater Baltimore Medical Center. During her four years with the Medical Center, she participated in establishing a formal, multi-disciplinary gastrointestinal malignancy program.
In her spare time, Dr. Patel enjoys cooking and running, and spending time with her husband and three children.
Treatments Provided
Hematologist
Medical Oncologist
Locations
Medical School
Case Western Reserve University School of Medicine | Cleveland, OH
Residency
Osler Medical Residency Program, at The Johns Hopkins Hospital | Baltimore, MD
Fellowship
Oncology/Hematology
Sidney Kimmel Comprehensive Cancer Center, at The Johns Hopkins Hospital | Baltimore, MD
Board Certified
Medical Oncology
Internal Medicine