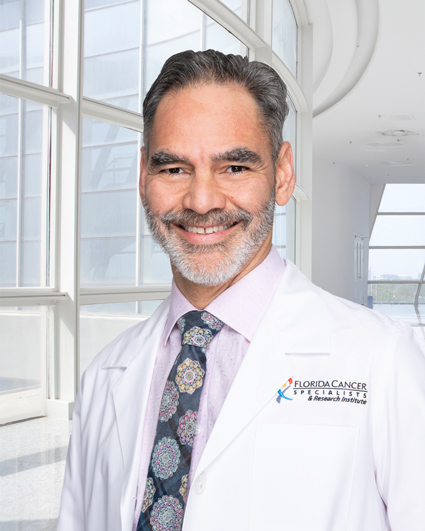 Gustavo A. Fonseca, MD, FACP
Physician Director of Clinical Research
Dr. Fonseca is a Hematologist and Oncologist with Florida Cancer Specialists and Research institute in Citrus County. He is deeply committed to the practice of oncology and has had extensive community research experience, which he brought to FCS in 2013.  As Medical Director of the FCS Clinical Research Program, appointed in April 2021, he is engaged in a range of initiatives that are expanding the body of knowledge of cancer, and contributing to the development of many promising new drugs and therapies.
After receiving his medical degree from the Universidad Del Norte School of Medicine in Colombia, Dr. Fonseca completed his residency in Internal Medicine at Jackson Memorial Hospital at the University of Miami. During his time there he served a fourth year as adjunct medical school faculty and as Chief Resident of a program responsible for 150 residents. He then proceeded with his fellowships in Oncology and Hematology at MD Anderson Cancer Center at the University of Texas, and at Methodist Hospital at Baylor School of Medicine in Houston. He has authored numerous articles published in peer-reviewed journals, including the Journal of Clinical Oncology, Cancer and Blood.
Dr. Fonseca is Board-Certified in Medical Oncology and Hematology. He is a member of the American Society of Clinical Oncology (ASCO), American Society of Hematology (ASH), a Fellow of the American College of Physicians (ACP), the governing board member of Bayfront Seven Rivers hospital, and was previously elected as president of the Citrus County Medical Society and Chief of Staff of Citrus Memorial Hospital. Dr. Fonseca also serves as the Medical Director of Clinical Research.
Treatments Provided
Hematology
Medical Oncology
Locations
Medical School
Universidad Del Norte – School of Medicine, Barranquilla, Colombia
Education
Universidad del Norte – Barranquilla, Colombia
Residency
University of Miami – Jackson Memorial Hospital
Fellowship
Oncology/Hematology

University of Texas – MD Anderson Cancer Center, Houston, Texas
Baylor School of Medicine – Methodist Hospital, Houston, Texas
Board Certified
Hematology
Medical Oncology
Community
American College of Physicians
Citrus County Medical Society
Florida Myelodysplasia Consortium
Society of Clinical Oncology
Dr. Gustavo Fonseca - Florida Cancer Specialists
Leslie Fraze Patient Testimonial