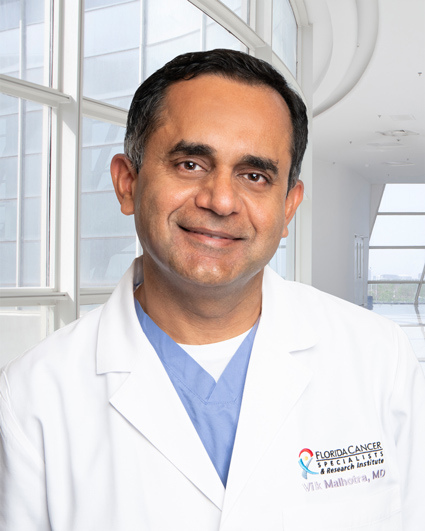 Vikas Malhotra, MD
Dr. Malhotra has been caring for patients with cancer for over 10 years. After graduating from medical school at the University of Delhi, New Delhi, India, in 1991, he completed his Internal Medicine Residency at Wright State University in Dayton, OH.
While there, Dr. Malhotra received the Best Resident award and Best Teaching resident award; he also served as Chief Resident in the program. He was a practicing Internist in Missouri for 3 years before returning to do his Fellowship in Hematology and Medical Oncology at University of Missouri. After his fellowship, he was appointed as the Assistant Professor of Medicine at the University of Missouri, where he was given the Best Medical Student Teacher award as a faculty member. He has been active in clinical trials through CALGB and is the author of several publications in Breast cancer and Esophageal cancer. He is also the author of two articles on UpTo Date® online, which is an evidencebased knowledge system authored by physicians to help clinicians improve the quality of patient care.
Dr. Malhotra moved to private practice in Florida in 2003 and joined Florida Cancer Specialists in 2012. He is Board certified in Internal Medicine, Medical Oncology and Hematology, and has served as an Executive Committee member on FLASCO, the Florida state affiliate of the American Society of Clinical Oncologists. He is an active supporter of several cancer charities including "Relay for Life" and "Making Strides". Dr. Malhotra is a Director of the Executive Board of Florida Cancer Specialists. He is married and the proud father of two sons.
Treatments Provided
Hematologist
Medical Oncologist
Locations
Medical School
University of Delhi – New Delhi, India
Residency
Wright State University – Dayton, OH
Fellowship
University of Missouri – Columbia, MO
Board Certified
Medical Oncology
Hematology
Internal Medicine
Highlights
Dr. Vikas Malhotra Interview
"The Weekly Checkup" – June 29, 2019
Dr. Vikas Malhotra is a frequent guest on "The Weekly Checkup," a live radio interview program that addresses important health issues, such as cancer. The topic of this program is "How Immunotherapy Is Changing Cancer Treatment." Dr. Malhotra explains some of the most recent advances in immunotherapy treatment and the amazing outcomes that some patients are experiencing.
Forever Grateful to my FCS Doctors & Nurses | Breast Cancer Survivor Shannon Gunn
Dr. Vikas Malhotra - Florida Cancer Specialists & Research Institute