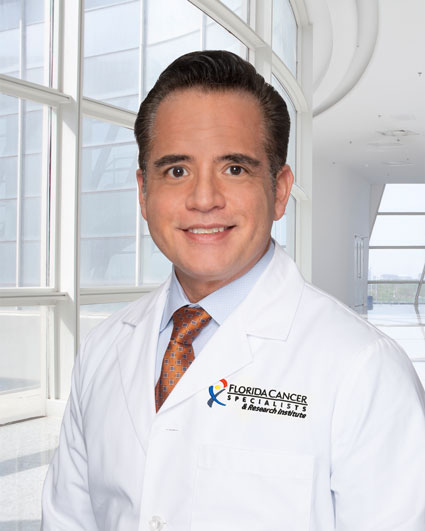 Michael Diaz, MD
Dr. Michael Diaz joined Florida Cancer Specialists & Research Institute (FCS) in 2011 and is the Immediate Past President and Managing Physician for the statewide practice. As a hematologist and oncologist, Dr. Diaz has a deep interest in treating breast, lung, colorectal, gastrointestinal, genitourinary, skin, and blood and bone marrow malignancies. In addition to his medical practice, Dr. Diaz provides leadership for a number of organizations, including serving as a current member and Immediate Past Chair of the Florida Cancer Specialists Foundation Board of Directors, which offers non-medical financial assistance to qualified cancer patients in Florida.
He serves as the Director of Patient Advocacy and Federal Legislative Committee Chair for the Florida Society of Clinical Oncology (FLASCO), as well as being a Past President. Dr. Diaz advocates nationally for cancer patients and practices by serving as the Immediate Past President of the Community Oncology Alliance (COA) as well as the Co-Chair for the organization's reform workgroup, which develops quality and value-based alternative payment models.
He advocates for Florida Medicaid patients by serving on the Florida Medicaid Pharmaceutical and Therapeutics Committee to ensure access to state-of-the-art, quality-based care, and advises the Florida Governor's office and State Legislature by serving on the Florida Cancer Control & Research Advisory Council. Dr. Diaz is on the Board of Directors for the National Cancer Treatment Alliance, which works with regional/national employers as well as their health care coalitions to improve the understanding of quality and value-based cancer care and develop collaborative programs related to cancer care. Dr. Diaz also serves on the FCS Finance Committee.
As a part of his philanthropic commitment, Dr. Diaz is dedicated to providing medical care to populations who are underserved and has participated in numerous medical missions to Kingston, Jamaica.
Treatments Provided
Hematology
Medical Oncology
Medical School
University of Kentucky | Lexington, Kentucky
Education
University of Kentucky | Lexington, Kentucky
Residency
Virginia Commonwealth University Medical College of Virginia | Richmond, Virginia
Fellowship
University of South Florida, Moffitt Cancer Center | Tampa, Florida
Board Certified
Medical Oncology
Hematology
Internal Medicine
Professional Affiliations
American Medical Association (AMA)
American Society of Clinical Oncology (ASCO)
Community Oncology Alliance (COA)
Florida Society of Clinical Oncology (FLASCO)
Dr. Mike Diaz - Florida Cancer Specialists & Research Institute