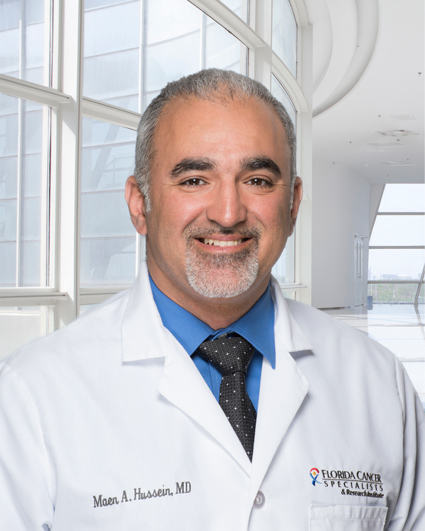 Maen Hussein, MD
Dr. Hussein currently serves as Chair of the Florida Cancer Specialists Foundation Board of Directors and sits on the Board of Directors for the Florida Society of Clinical Oncology (FLASCO). As cancer researcher, Dr. Hussein has participated in numerous clinical trials and was named the Principal Investigator on many lung cancer trials conducted through Florida Cancer Specialists and Sarah Cannon, one of the leading community-based clinical trial organizations in the US. In 2010, he was the recipient of the Leesburg Regional Medical Center Outstanding Achievement Award, Leesburg Regional Medical Center Foundation Hope in Healing Humanitarian Award in 2014 and was named Physician of the Quarter Award at Florida Hospital Waterman.
Q&A with Medical Oncologist Dr. Maen Hussein: Lung Cancer
Lung cancer isn't only developed through smoking. How can non-smokers protect themselves from this cancer?
There is no specific practice to protect yourself specifically from non-smoker-related lung cancer. Protecting your health in general — with exercise, avoiding second-hand smoke and committing to healthy diets, as well as avoiding other toxins such as marijuana, can possibly reduce the risk.
What can people who smoke, or have smoked, do to monitor their lung health?
Lung cancer screening is recommended for active smokers or people who quit within 15 years of reaching the age of 55 (and until the age of 79). Patients who meet this criterion should ask their primary care physicians about this low-dose CT chest scan.
What is the difference between lung cancers in smokers vs. non-smokers?
In general, smokers do worse than non-smokers when diagnosed with lung cancer. It could be because smokers may have other illnesses such as heart or lung disease, which makes it harder to be treated. Smoking can also weaken the immune system. There is data that shows when a patient quits smoking after starting treatment for lung cancer, they do better than patients who continue to smoke.
Treatments Provided
Hematologist
Medical Oncologist
Locations
Medical School
University of Jordan – Amman, Jordan
Residency
Islamic Hospital | Amman, Jordan
Albasheer General Hospital | Amman, Jordan
Security Forces Hospital | Riyadh-KSA
Brown University at Memorial Hospital of Rhode Island | Pawtucket, RI
Fellowship
Saint Louis University | St. Louis, MO
Board Certified
Medical Oncology
Hematology
Internal Medicine
Honors & Achievements
Outstanding Achievement Award, 2010, Leesburg Regional Medical Center
Physician of the Quarter Award at Florida Hospital Waterman
Hope in Healing Humanitarian Award, 2014, Leesburg Regional Medical Center Foundation
Professional Affiliations
American Cancer Society
American College of Physicians
American Society of Clinical Oncology (ASCO)
Community Oncology Alliance (COA)
Florida Society of Clinical Oncology (FLASCO)
Florida Cancer Specialists - Dr. Maen Hussein - May 2017
Sharon Martinos Testimonial - Dr. Maen Hussein Patient - Florida Cancer Specialists