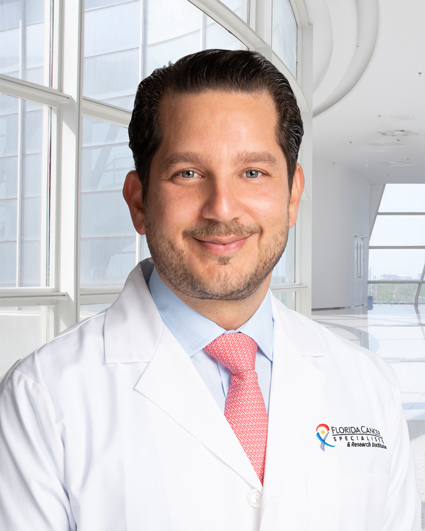 Michel Velez, MD
Board-certified in medical oncology, hematology and internal medicine, Michel Velez, MD earned his medical degree from Universidad del Norte in Colombia. After completing his internship and residency in internal medicine at the University of Miami Miller School of Medicine at JFK Medical Center and Veterans Affairs Medical Center Regional Campus in West Palm Beach, FL, he was awarded a fellowship in hematology and oncology at Jackson Memorial Hospital through the University of Miami Miller School of Medicine.
Prior to joining FCS, Dr. Velez served as medical director at the Michael & Dianne Bienes Comprehensive Cancer Center at Holy Cross Hospital in Fort Lauderdale, FL.  He previously cared for patients at the Memorial Cancer Institute in Hollywood, FL, where he also served as medical director of quality initiatives and chair of the pharmacy and therapeutics committee.
Dr. Velez has a strong background in research with a focus on clinical studies and breast cancer. He has served as principal investigator and sub-investigator at the Office of Human Research at Holy Cross Hospital and at Memorial Cancer Institute. His research has been published in several peer-reviewed journals and presented at national and international conferences; most recently at the Caribbean Association of Oncology and Hematology (CAOH) Conference in Cartagena, Colombia, the Best of ASCO Annual Meeting in Miami, FL, FLASCO Business Meeting in Orlando, FL and the Bahamas Medical Association in Freeport, Bahamas.
Treatments Provided
Hematologist
Medical Oncologist
Locations
Florida Cancer Specialists bringing cancer treatment services to Kissimmee, Florida
Florida Cancer Specialists office opening in Kissimmee, Florida