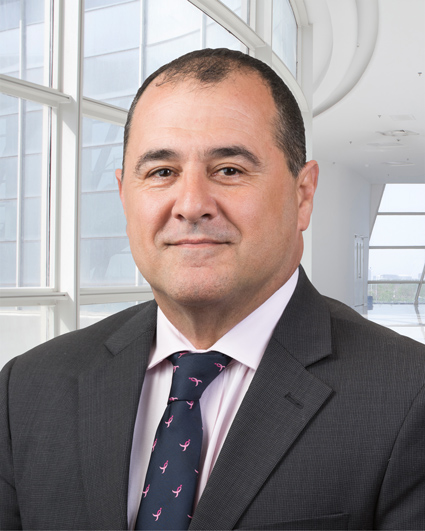 Guillermo Abesada-Terk, Jr., MD
After graduating Cum Laude in Chemistry from the University of Miami, Dr. Guillermo Abesada-Terk earned his medical degree from the University of Miami School of Medicine. He then completed his Internal Medicine residency at Sinai Hospital of Baltimore, a major teaching affiliate of Johns Hopkins University and the University of Maryland. Following his residency, Dr. Abesada-Terk was then awarded a fellowship in hematology and medical oncology at the University of Pittsburgh Montefiore Hospital in Pittsburgh, PA.
Demonstrated by his active participation in various research projects throughout his practice, Dr. Abesada-Terk has an avid interest in clinical research and has served as a sub-investigator on a number of clinical trials, including several cancer vaccine trials, targeted immunotherapy trials, killed shingles vaccine trial, as well as many other cancer national trials.  In the past, Dr. Abesada-Terk has been awarded membership at the level of Clinical Research Associate Investigator with H. Lee Moffitt Cancer Center in Tampa, FL.
He served as Institutional Review Board Chairman at Martin Memorial Health and was the Medical Research Director of the Martin Health System Center for Clinical Research at Robert and Carol Weissman Cancer Center in Stuart, FL. from 2010 to 2013. He served as Chairman of the Cancer Committee and Infectious Disease Committee and continues to be a member of several other committees. Dr. Abesada-Terk also holds a position as Florida State University Medical School Assistant Clinical Professor.
Prior to joining Florida Cancer Specialists in 2017, Dr. Abesada-Terk has been practicing Oncology in the Stuart area since 1991. While Dr. Abesada-Terk has special interest in lung, melanoma, lymphoma and colorectal malignancies, he does evaluate and treat a broad spectrum of hematological and oncological diseases.
Medical School
University of Miami School of Medicine – Miami, FL
Residency
Sinai Hospital of Baltimore – Baltimore, MD
Fellowship
Oncology/Hematology
Diplomate, National Board of Medical Examiners
Board Certified
Medical Oncology
Hematology
Diplomate, National Board of Medical Examiners
Honors & Achievements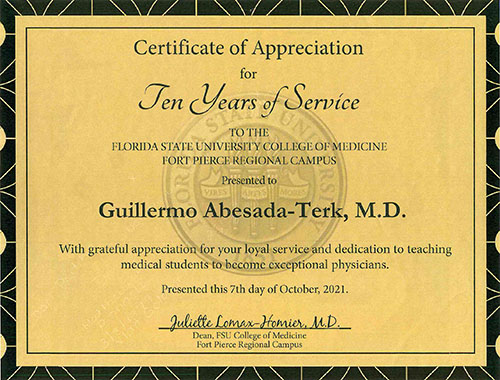 Dr. Guillermo Abesada-Terk - Florida Cancer Specialists
Marjorie San Lorenzo Testimonial - Dr. Abesada-Terk Patient - Florida Cancer Specialists