Several FCS physicians and leaders appointed to 2024 FLASCO executive committees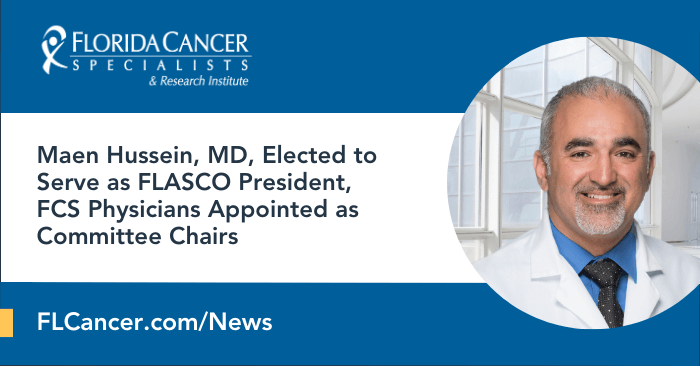 FCS Medical Oncologist and Hematologist Maen Hussein, MD Elected to Serve as FLASCO President
Several Florida Cancer Specialists & Research Institute Physicians Appointed as Committee Chairs
Fort Myers, Fla., November 7, 2023 – During the 2023 Florida Society of Clinical Oncology (FLASCO) Fall Session, several Florida Cancer Specialists & Research Institute, LLC (FCS) physicians were elected to serve as executive committee officers and chairs for the nationally recognized advocacy group in the upcoming term beginning January 1, 2024. FLASCO and its 3,600 members work together to raise the overall standard of oncology practice.
The following FCS physicians were named as FLASCO 2024 Executive Committee Officers:
"Dr. Hussein is a highly compassionate physician and has been instrumental in his leadership within our statewide practice," remarked FCS President & Managing Physician Lucio N. Gordan, MD. "He has a true passion for advancing oncology care, evident through his participation in numerous clinical trials and his routine contributions to the FCS Hematology Oncology Review. He will be equally as strong in this newly appointed leadership role at FLASCO and serve the oncology patient population in Florida well."
During the Fall Session, Dr. Hussein also announced his presidential committee appointees beginning January 1, 2024. Among those named, several are FCS physicians who will hold Committee Chair positions:
Several FCS physicians also serve as members of the FLASCO Board of Directors:
Numerous FCS leaders and physicians also serve FLASCO in a liaison capacity or as members. Combined with other medical oncologists and hematologists, advanced practice providers, nurses, pharmacists and administrators from hospitals and cancer centers throughout the state, the appointed leaders and members of FLASCO collaborate to improve patient care by participating in educational opportunities, advocating for patients, and refining reimbursement and quality measures with payers.
"FCS has a longstanding commitment to improving oncology patient care in Florida, exemplified through our many appointed leaders in FLASCO," said FCS Chief Executive Officer Nathan H. Walcker. "Ultimately, it is our patients who benefit from the collective exchange of information and advocacy here that pushes the needle further, advancing the standard of care across the board, not just at FCS, but for all oncology providers in Florida."
For a complete list of FCS FLASCO leaders, visit: https://flasco.org/about-flasco/board/