Annual Recap 2022
2022 was a year of growth and innovation for FCS. Our 2022 Annual Recap is a comprehensive summary of noteworthy accomplishments and patient stories, all leading to the collective success of our statewide practice. Through our mission, vision and P.A.C.T. values, our team members joined as one team to accomplish the numerous goals we set out to achieve.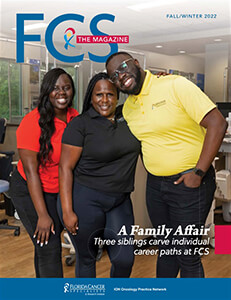 FCS Magazine
FCS Magazine is an internal publication connecting all the FCS locations and sharing news of our organization and personal stories of our colleagues. Published quarterly and distributed electronically to all physicians, employees and company leaders, FCS Magazine focuses on our dedication to and support of our patients and each other. The magazine is a reflection of our mission and shared values.
CURE® Magazine
Launched in 2002 for patients with cancer, survivors and their caregivers, CURE® Magazine and online platform provides access to leading resources and information that serve as a guide to every stage of the cancer experience. In conjunction with partnerships between Florida Cancer Specialists & Research Institute, MJH Life Sciences & CPAN, this patient-focused publication combines science, humanity and technology to make cancer understandable for patients and their caregivers.