Reviewing 2023 Cancer Statistics: U.S. Cancer Mortality Rates Continue to Decline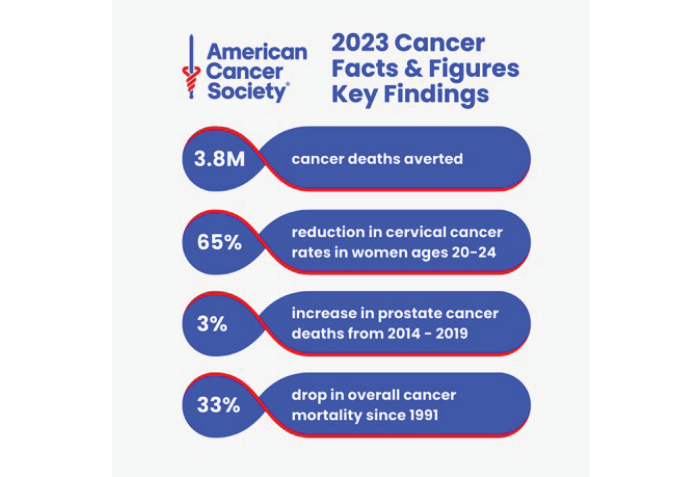 FCS Clinical Research Contributing to Treatment Advances
Prevention efforts, screenings and effective new treatments, many resulting from clinical research conducted with participation from Florida Cancer Specialists & Research Institute, LLC (FCS), have contributed to a steady decline in cancer mortality rates in the United States.  According to the American Cancer Society's (ASC) 2023 Facts & Figures publication released this week, deaths from all forms of cancer have declined by 33 percent since 1991, with an estimated 3.8 million cancer deaths averted.
"This report confirms the many ways in which FCS physicians and patients are contributing to the substantial positive strides being made towards eradicating cancer," said Lucio Gordan, MD, FCS President & Managing Physician. "Clinical studies conducted across our statewide practice are key to the rapid development of new technologies and treatments and advancements in precision oncology."
Cervical cancer trends a particular bright spot.
A 65% drop in the incidence of cervical cancer from 2012 through 2019, particularly among women ages 20 to 24, is attributed mainly to the uptick in screening and the widespread acceptance of vaccines that protect against human papilloma virus (HPV), the cause of more than 90 percent of cervical cancers.   
"In recent years we have begun to see the benefit of vaccination and screening in women 20-24 years, leading to a reduction in new cases as well as the detection of cancers at an early stage," said FCS Board-certified gynecologic oncologist Christopher McCann, DO. While the vaccination rate remains relatively low, with approximately 50 percent of boys and girls fully vaccinated in the U.S., he expects the reduction in incidence should improve going forward as more girls and boys get vaccinated.
"Mortality rates for the most part remain stable to slightly decreased," Dr. McCann said. "With newer therapies evolving, including immunotherapy, we hope mortality rates may improve even more."
Cervical cancer is the fourth most common cancer found in females and an estimated 13,960 new cases will be diagnosed in 2023.
Sobering trends for prostate cancer.
After two decades of decline, the incidence of prostate cancer increased 3% annually from 2014 through 2019, reflecting an uptick in diagnosis at advanced stages of the disease.
According to Hugo Davila, MD, Board-certified urologist with Florida Healthcare Specialists, a division of FCS, these numbers prove the importance of men having conversations about prostate health with their doctors beginning at age 40. "African American men, in particular, are 60 percent more likely to develop the disease, largely due to inherited genetic factors," Dr. Davila noted.
Dr. Davila acknowledges that concerns about traditional testing methods have contributed to screening delays and later stage diagnoses, but these should not deter men from knowing their risks. "In our practice we are using the newest testing options that allow us to diagnose the disease early when it is localized and has the best chance of a positive outcome," he said. "Early detection can make all the difference."
Keeping an Eye on Coronavirus Pandemic Impacts.
Experts continue to watch how delays in cancer diagnosis and treatment during the COVID-19 pandemic may impact cancer trends in future reports, with data lagging by two to three years.
A 2021 study co-authored by FCS, conducted for the Community Oncology Alliance (COA) by Avalere Health and published in the JCO Clinical Cancer Informatics, found that many Americans delayed or even skipped regular screenings at the height of the pandemic, which resulted in a number of cancers being diagnosed at later stages when treatment is more complex, and often leading to higher mortality rates.
The regularly updated ACS Facts & Figures publications present the most current trends in cancer occurrence and survival, using data collected by central cancer registries and the National Center for Health Statistics. The report estimates that 1,958,310 new cancer cases and 609,820 cancer deaths are projected to occur in the United States during 2023.
View the full report: http://pressroom.cancer.org/FactsandFigures23.