Lucio Gordan, MD, Ivor Percent, MD Co-Author Phase 3b/4 Renal Cell Carcinoma Study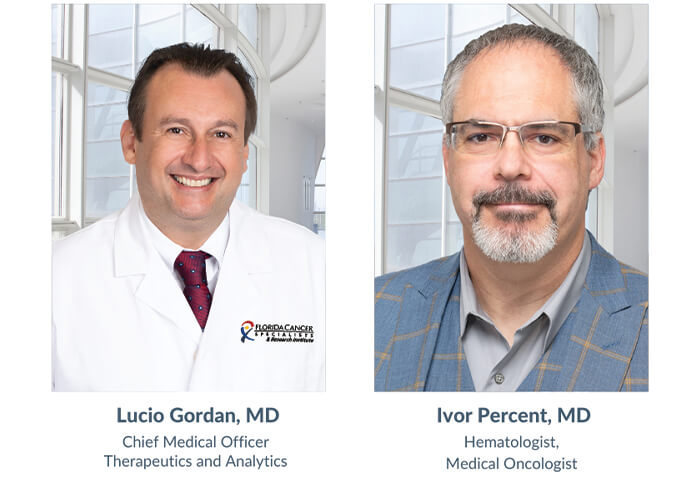 Fort Myers, Fla., Mar. 2, 2022 – Medical oncologists Lucio  N. Gordan, MD and Ivor Percent, MD, members of the clinical research team at Florida Cancer Specialists & Research Institute (FCS), are co-authors for a study that examined the safety and efficacy of nivolumab plus ipilimumab in patients with advanced non-clear cell renal cell carcinoma (nccRCC) administered primarily in community-based settings. Specifically, this clinical trial observed patients with clinical features that were previously excluded from earlier trials, such as untreated advanced nccRCC, evaluating the results of combining the two prescription immunotherapies for treatment in this patient population.
Nivolumab and ipilimumab are both intravenous targeted immunotherapies that can be used depending on the disease state and previous treatments. Nivolumab targets and blocks the PD-1 T-cell protein to generate an immune response against kidney cancer cells. Traditionally, this immunotherapy has been used to treat reoccurrence of advanced RCC. Ipilimumab, a CTLA-4 inhibitor, can be used in conjunction with nivolumab for those with advanced RCC who have not received any prior treatment.
Among the top ten most common cancers, nearly 80,000 new cases of kidney cancer (or RCC) are diagnosed each year. Statistically, men are twice as likely as women to be diagnosed. Approximately 20% of all kidney cancers are classified as a non-clear cell (nccRCC) – the sub-type identified in a portion of patients in this study – which has shown to have poor responses to targeted immunotherapy often leading to worse outcomes.
Analysis from this study found no new safety concerns in the application of nivolumab plus ipilimumab in patients with untreated nccRCC. Additionally, the efficacy in combining the two immunotherapies indicated encouraging antitumor activity.
Dr. Gordan, Dr. Percent, and their cohorts state: "Taken together, data from the CheckMate 920 trial support nivolumab plus ipilimumab as a first-line treatment option for select patients with advanced/metastatic nccRCC."
The authors also note that, "current treatment guidelines for advanced nccRCC are based on limited evidence from phase 2 trials, retrospective studies, and a meta-analysis; our study adds much-needed prospective data to inform clinical practice."
To view the complete study, visit: https://jitc.bmj.com/content/10/2/e003844
# # #
For More Information, Contact:
Jen Bradley, Director of Corporate Communications
Jen.Bradley@FLCancer.com
(847) 280.1740