Gustavo Fonseca, MD & James Reeves, MD Co-Author Study Published in Journal of Clinical Oncology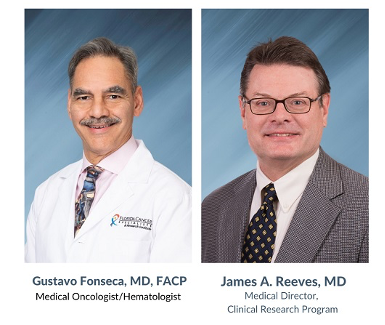 Clinical Study Evaluates Efficacy and Safety of Umbralisib in Patients with Relapsed/Refractory Indolent Non-Hodgkin Lymphoma
Fort Myers, Fla., March 30, 2021 – Florida Cancer Specialists & Research Institute (FCS) medical oncologists Gustavo Fonseca, MD, FACP and James A. Reeves Jr., MD, Medical Director of the FCS Clinical Research Program, are co-authors of a study entitled "Umbralisib, a Dual PI3Kδ/CK1ε Inhibitor in Patients With Relapsed or Refractory Indolent Lymphoma." Recently published online in the Journal of Clinical Oncology, the study's purpose was to evaluate the efficacy and safety of Umbralisib in patients with relapsed or refractory (treatment stops working) indolent non-Hodgkin lymphoma (iNHL).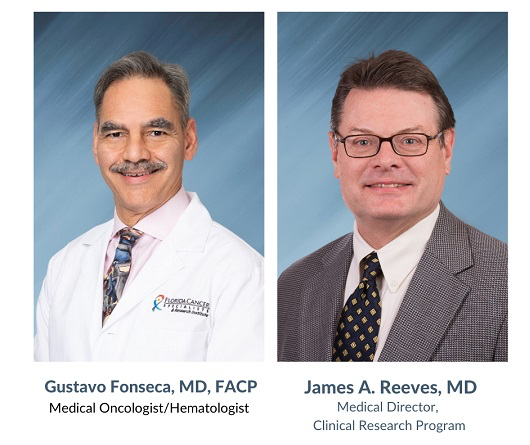 Non-Hodgkin lymphomas (NHLs), the seventh most commonly diagnosed hematologic cancer, are generally diagnosed as aggressive or indolent (slow growing) NHL. Disease management is usually tailored to clinical presentation and specific patient characteristics. A class of drugs known as phosphatidylinositol-3-kinase (PI3K) inhibitors have been shown to be effective; however, according to the study, "Available targeted treatment options for patients with relapsed or refractory disease are limited and associated with treatment-limiting toxicities."
A total of 2008 patients with relapsed iNHL were enrolled and treated in the trial, known as UNITY-NHL, with safety data collected through January 1, 2020. The study found that " … there was a low incidence of Umbralisib-related discontinuations and no deaths because of TEAEs (treatment emergent adverse effects). These data contrast with pivotal trials of first-generation PI3K inhibitors, in which investigators reported high TEAE-related discontinuation rates (up to 52%) and treatment-related deaths (3.9% – 8.8%).
The study noted, "Umbralisib is a unique, potent, oral, once-daily, dual inhibitor of phosphatidylinositol-3-kinase δ-isoform and casein kinase-1ε, which has demonstrated efficacy and safety as a single agent and in combination and may offer a novel nonchemotherapy treatment option for patients with relapsed or refractory disease." … "These data demonstrate that Umbralisib may provide a novel targeted treatment option for previously treated patients with indolent lymphomas."
Drs. Fonseca, Reeves and their co-authors concluded, "Umbralisib achieved meaningful clinical activity in heavily pretreated patients with iNHL. The safety profile was manageable, with a relatively low incidence of immune-mediated toxicities and adverse event–related discontinuations."
To read the full study: https://ascopubs.org/doi/full/10.1200/JCO.20.03433
###
For More Information:
Michelle Robey, Vice President of Marketing
(813) 767.9398
Maryalice Keller, Corporate Communications Manager
(585) 314-0172