Florida Cancer Specialists Physicians Present Studies in Blood Cancer Research at American Society of Hematology Annual Meeting & Exposition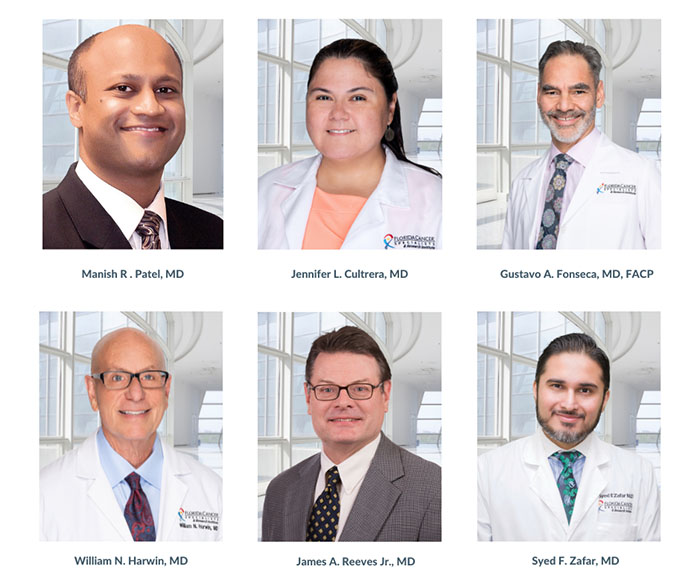 Fort Myers, Fla., Dec. 20, 2021 – Physicians from Florida Cancer Specialists & Research Institute, LLC (FCS) presented numerous studies on blood cancer research at the American Society of Hematology (ASH) Annual Meeting and Exposition held in Atlanta, Georgia December 9 – 14, 2021. FCS is the leading community-based oncology practice in Florida with clinical trial opportunities made available to patients at 36 locations in the state. This year, several FCS physicians were selected to present the findings from such studies related to malignant and non-malignant hematology at the ASH annual meeting.
As the first author, Medical oncologist Manish R. Patel, MD, presented a study entitled, "A Phase 1 Dose Escalation Study of Protein Arginine Methyltransferase 5 (PRMT5) Inhibitor PRT543 in Patients with Myeloid Malignancies." The presentation occurred on December 12, 2021.
The study evaluates the safety, pharmacokinetics, pharmacodynamics, and efficacy for myelodysplastic syndrome (MDS) and myeloproliferative neoplasm of PRT543 when administered at varying schedules.  Analysis from the study indicates favorable results, leading to further research evaluating PRT543 as a monotherapy.
Dr. Patel was also involved in seven other presentations while several other FCS physicians presented as co-authors, 14 presentations in total, at the ASH Annual Meeting and Exposition:
Gustavo A. Fonseca, MD, FACP
The Combination of Umbralisib Plus Ublituximab Is Active in Patients with Relapsed or Refractory Marginal Zone Lymphoma (MZL): Results from the Phase 2 Global Unity-NHL Trial
Jennifer L. Cultrera, MD
Syed F. Zafar, MD
Phase 2 Study of Zanubrutinib in BTK Inhibitor-Intolerant Patients (Pts) with Relapsed/Refractory B-Cell Malignancies
Manish R. Patel, MD
A Phase 1 Study of the Combination of Acalabrutinib and AZD9150 in Patients with Relapsed/Refractory Diffuse Large B-Cell Lymphoma
Manish R. Patel, MD
Pirtobrutinib, A Next Generation, Highly Selective, Non-Covalent BTK Inhibitor in Previously Treated CLL/SLL: Updated Results from the Phase 1/2 BRUIN Study
Manish R. Patel, MD
Pirtobrutinib, A Next Generation, Highly Selective, Non-Covalent BTK Inhibitor in Previously Treated Mantle Cell Lymphoma: Updated Results from the Phase 1/2 BRUIN Study
Gustavo A. Fonseca, MD, FACP
James A. Reeves Jr., MD
Efficacy and Safety of Umbralisib, Ublituximab (U2), and U2 Plus Bendamustine in Patients with Relapsed or Refractory Diffuse Large B-Cell Lymphoma (DLBCL)
Manish R. Patel, MD, First Author
A Phase 1 Dose Escalation Study of Protein Arginine Methyltransferase 5 (PRMT5) Inhibitor PRT543 in Patients with Myeloid Malignancies
Manish R. Patel, MD
Phase 1 Study of JNJ-64619178, a Protein Arginine Methyltransferase 5 Inhibitor, in Patients with Lower-Risk Myelodysplastic Syndromes
Manish R. Patel, MD
Phase 2a Study of the Dual SYK/JAK Inhibitor Cerdulatinib (ALXN2075) As Monotherapy or in Combination with Rituximab in Patients with Relapsed/Refractory Follicular Lymphoma
Manish R. Patel, MD
Phase 2a Study of the Dual SYK/JAK Inhibitor Cerdulatinib (ALXN2075) As Monotherapy in Patients with Relapsed/Refractory Peripheral T-Cell Lymphoma
Manish R. Patel, MD
Safety and Efficacy of Menin Inhibition in Patients (Pts) with MLL-Rearranged and NPM1 Mutant Acute Leukemia: A Phase (Ph) 1, First-in-Human Study of SNDX-5613 (AUGMENT 101)
Syed F. Zafar, MD
Favorable Outcomes for Patients Treated with U2 with Co-Morbidities or Concomitant Medications: A Retrospective Analysis of Unity-CLL Phase 3 Trial
Syed F. Zafar, MD
Jennifer L. Cultrera, MD
Efficacy and Safety of Ublituximab in Combination with Umbralisib (U2) in Patients with Chronic Lymphocytic Leukemia (CLL) By Treatment Status: A Sub-Analysis of the Phase 3 Unity-CLL Study
William N. Harwin, MD
Brentuximab Vedotin in Combination with Lenalidomide and Rituximab in Patients with Relapsed or Refractory Diffuse Large B-Cell Lymphoma (DLBCL) (ECHELON-3, Trial in Progress)
To view an online version of the abstracts, visit: https://ash.confex.com/ash/2021/webprogram/Session21289.html