Two FCS Manuscripts Published in NEJM Within Two Months Co-Authored by Manish R. Patel, MD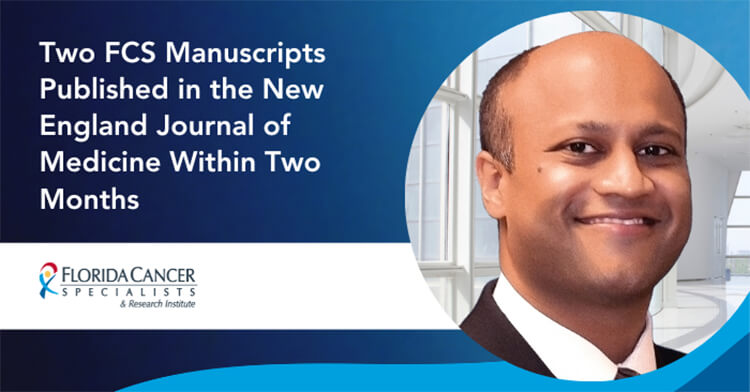 Fort Myers, Fla., September 14, 2023 – Florida Cancer Specialists & Research Institute, LLC (FCS) Director of Drug Development Manish Patel, MD is the co-author for two manuscripts published in the New England Journal of Medicine within two months.
The first study, entitled "Pirtobrutinib after a Covalent BTK Inhibitor in Chronic Lymphocytic Leukemia," conducted in participation from FCS, confirms the effectiveness of pirtobrutinib for the treatment of patients with chronic lymphocytic leukemia (CLL) or small lymphocytic lymphoma (SLL).
FCS was one of the first two sites to open this study of which the findings indicate that pirtobrutinib, a highly selective, noncovalent (reversible) Bruton's tyrosine kinase (BTK) inhibitor, improved treatment and survival outcomes for patients with CLL and SLL who previously experienced poor outcomes after the failure of treatment with covalent (non-reversible) BTK inhibitors. 26 patients from FCS participated in the Phase 1 portion of the trial. BTK inhibitors are oral drugs used in the long-term treatment of CLL and SLL to disrupt the growth and spread of abnormal B cells.
"Some patients experience poor outcomes after the failure of covalent BTK inhibitor treatment and new therapeutic options are needed," said Dr. Patel. "Our Phase 1 and 2 clinical trials were designed to study pirtobrutinib's effectiveness in reestablishing BTK inhibition in adult patients with relapsed or refractory B-cell cancers."
The authors concluded, "In this trial, pirtobrutinib showed efficacy in patients with heavily pretreated CLL or SLL who had received a covalent BTK inhibitor."  In the study of 317 patients, "the percentage of patients with an overall response to pirtobrutinib was 73.3%…the median progression-free survival was 19.6 months." Additionally, participants experienced less frequent adverse side effects.
Dr. Patel said, "It is gratifying that research conducted at FCS continues to advance the discovery and use of novel new therapies that are improving cancer treatment."
Pirtobrutinib was the first next-generation BTK inhibitor specifically approved by the FDA for the treatment of Relapsed or Refractory Mantle Cell Lymphoma in adult patients. The accelerated FDA approval, received in 2022, was based on clinical studies conducted with FCS participation.
"CLL and SLL are slow-growing cancers that generally require longer-term treatment," noted FCS President & Managing Physician Lucio N. Gordan, MD. "Thanks to our leadership and extensive capabilities, we are able to offer our patients the newest and most advanced treatment options available."
To access the article*:  https://www.nejm.org/doi/full/10.1056/NEJMoa2300696
The second, a Phase 1 study conducted with participation from FCS, has found that divarasib is effective in treating metastatic or advanced solid tumors. FCS Director of Drug Development Manish Patel, MD co-authored the study, "Single-Agent Divarasib (GDC-6036) in Solid Tumors with a KRAS G12C Mutation."
FCS was the highest enroller participating in this Phase 1 clinical trial, of which 25 patients enrolled through the statewide practice were some of the first to have ever received this new drug. The researchers sought to assess the treatment's safety, interactions, antitumor activity and biomarker response among 137 adult patients with non-small cell lung cancer (NSCLC), colorectal cancers and other solid tumors with KRAS G12C mutations. The authors concluded, "Treatment with divarasib resulted in durable clinical responses across KRAS G12C–positive tumors, with mostly low-grade adverse events."
"Our research has yielded critical insights and more good news for cancer patients," said Dr. Patel. "Divarasib shows encouraging responses and progression-free survival among patients with KRAS G12C mutated solid tumors." He added that plans for additional studies are underway.
Lucio N Gordan, MD, FCS President & Managing Physician, said, "This is yet another example of the power of the advanced molecular testing capabilities now available to FCS patients. The data that is generated enables our physicians to identify optimal treatment options that can be truly personalized for each patient's unique condition and genetic makeup."
Background: KRAS is the most frequently mutated oncogene, a gene with the potential to cause cancer in tumor cells. Mutations of KRAS G12C occur in about 13% of patients with non-small cell lung cancer (NSCLC) and 1% to 3% of patients with colorectal cancers and other solid tumors (1). Divarasib is a covalent inhibitor that seeks to disrupt the pathway of the KRAS G12C mutation. The targeted oral treatment is currently under development by Genentech, which provided funding for the study.
To access the article*:  https://www.nejm.org/doi/full/10.1056/NEJMoa2303810
(1) Amgenoncology.com
*Subscription required