Florida Cancer Specialists & Research Institute Expands Services in Pasco County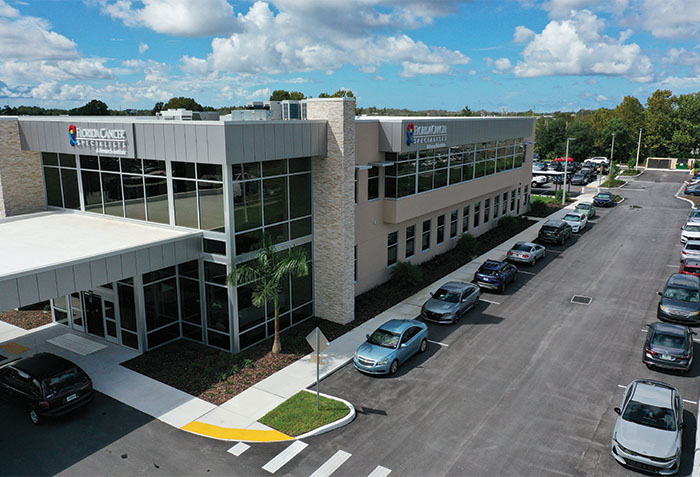 New State-of-the-Art Cancer Center in Trinity Now Open
Fort Myers, Fla., Oct. 26, 2021 – Florida Cancer Specialists & Research Institute (FCS) has opened its new state-of-the-art Trinity Cancer Center, providing the most advanced and personalized treatments and services for patients with all forms of cancers and blood disorders.  Located at 9320 State Road 54, Trinity, FL 34655, the 37,000 square foot facility replaces the FCS clinics previously located in New Port Richey at 8763 River Crossing Blvd. and at 5802 State Road 54.
The new FCS Trinity Cancer Center includes 27 exam rooms and 54 chairs for chemotherapy and other infusion therapies, as well as radiation oncology and next-generation PET/CT imaging technology, and laboratory, oral oncolytic specialty pharmacy and care management services for patients participating in value-based care.
"We are so pleased to expand the range of world-class cancer treatment services available to our patients in Pasco County," said FCS Chief Executive Officer Nathan H. Walcker.  "In this new location, we provide convenient access to the latest advancements in technology and science."
FCS President and Managing Physician Lucio Gordan, MD said, "Our new Trinity Cancer Center features a thoughtfully-designed patient-centered environment where patients can access a comprehensive range of personalized services and the most promising treatment options, with expanded opportunities to participate in clinical trials.
Providing care to patients at the FCS Trinity Cancer Center are medical oncologists Jorge Ayub, MD, Mamta Choksi, MD, Uday Dandamudi, MD, Gajanan Kulkarni, MD, Kapisthalam Kumar, MD, FACP, Ramya Pinnamaneni, MD, Gail Lynn Shaw Wright, MD, FACP, FCCP, and David Wenk, MD; gynecologic oncologist Jessica Stine, MD; and radiation oncologists Vivian Griffin, MD,  Arthur Matzkowitz, MD and Neha Sharma, MD.
# # #
About Florida Cancer Specialists & Research Institute
Recognized by the American Society of Clinical Oncology (ASCO) with a national Clinical Trials Participation Award, Florida Cancer Specialists & Research Institute (FCS) offers patients access to more clinical trials than any private oncology practice in Florida. Over the past 5 years, the majority of new cancer drugs approved for use in the U.S. were studied in clinical trials with Florida Cancer Specialists participation.* Trained in such prestigious medical schools and research institutes as Duke, Stanford, Harvard, Emory, MD Anderson, and Memorial Sloan Kettering, our physicians are consistently ranked nationally as Top Doctors by U.S. News & World Report.
Florida Cancer Specialists has built a national reputation for excellence that is reflected in exceptional and compassionate patient care, driven by innovative clinical research, cutting-edge technologies, and advanced treatments, including targeted therapies, genomic-based treatment, and immunotherapy. Our values are embodied by our outstanding team of highly trained and dedicated physicians, clinicians, and staff.
*Prior to approval
For More Information, contact:
Michelle Robey, Vice President of Marketing & Communications
Michelle.Robey@FLCancer.com
(813) 767.9398