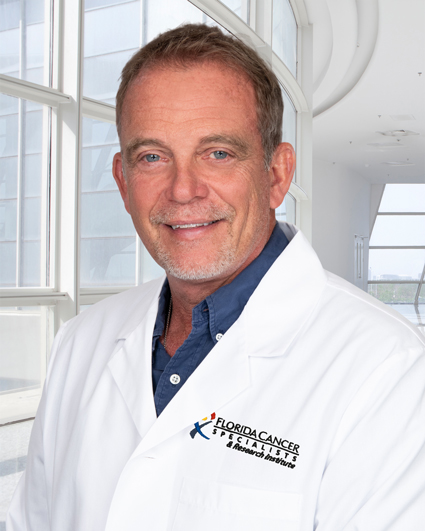 Douglas D. Heldreth, MD
The doctor-patient relationship is "everything" to Dr. Douglas Heldreth. While sharing in the joys as well as the tough times with his patients and their families, he values their trust in his ability to do his very best to provide them with individualized, world-class treatment.  Dr. Heldreth sees that newer therapies are providing hope and many more options so that cancer patients are able to maintain healthy lifestyles for years after a cancer diagnosis.
Dr. Heldreth received his medical degree from West Virginia University School of Medicine in Morgantown, WV. He completed an internship in Internal Medicine at Charleston Area Medical Center in Charlestown, WV and a residency in Internal Medicine at Orlando Regional Medical Center/University of Florida. He began his career as an internist in private practice in Fort Myers. While serving as Medical Director for Hope Hospice in Fort Myers,  Dr. Heldreth became interested in doing more to treat cancer patients in the earlier phases of their illness and gained additional training through a fellowship in Medical Oncology at the University of South Florida College of Medicine in Tampa.  He joined Florida Cancer Specialists in 1996.
Board-certified in Medical Oncology and Internal Medicine, Dr. Heldreth frequently serves as a sub-investigator for Phase 1, 2 and 3 clinical trial research studies.
Treatments Provided
Hematology
Medical Oncology
Locations
Residency
Orlando Regional Medical Center
Fellowship
Oncology: University of South Florida
Board Certified
Internal Medicine and Medical Oncology
Dr. Douglas D. Heldreth - Florida Cancer Specialists
Marie Zandy Testimonial - Dr. Heldreth Patient - Florida Cancer Specialists