Florida Cancer Specialists & Research Institute Physicians Serve as Panelists for FLASCO Training Program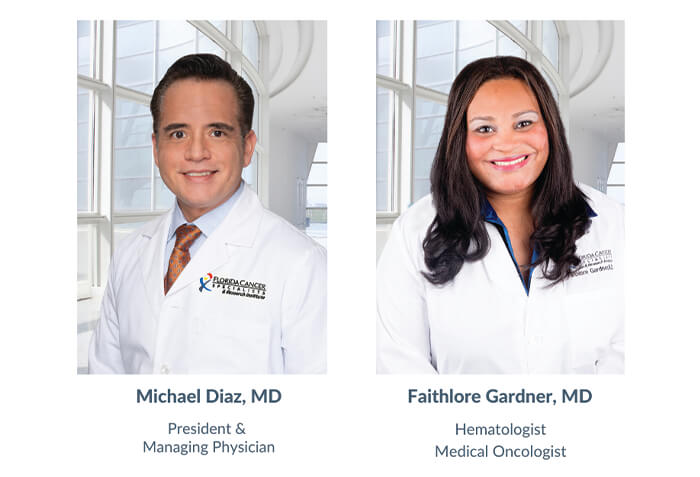 Aiding Fellows & Residents to Transition into the Oncology Workplace
Fort Myers, Fla., March 31, 2022 – Two medical oncologists from Florida Cancer Specialists & Research Institute (FCS) participated in the Florida Society of Clinical Oncology (FLASCO) Fellow & Resident Educational Training Program held March 19, 2022 in Orlando, Florida. The one-day program featured respected keynote speakers from community oncology, academia and industry to share helpful information for participants preparing to transition into the oncology workforce.
FCS President & Managing Physician Michael Diaz, MD, who also serves as FCS Director of Patient Advocacy, presented insights on Value Based Oncology & Policy. FCS Medical Oncologist Faithlore Gardner, MD, who provides care to patients at FCS Cape Coral and Cape Coral Cay West Cancer Centers, discussed Career Pathways & Collaboration from her perspective as a community-based oncologist.
FCS President & Managing Physician Michael Diaz, MD said, "We are pleased to join with colleagues from across Florida and the U.S. to provide fellows and residents with valuable tools and insights to help them transition successfully from academia into the unique and rewarding specialty of oncology."
Additional topics during the one-day session included contract negotiation, billing, reimbursement and telehealth, and immunotherapies. FLASCO also hosted a poster presentation opportunity for participants to present their research among peers, program directors and FLASCO leadership.
The Florida Society of Clinical Oncology (FLASCO) is a statewide non-profit organization committed to facilitating and promoting multidisciplinary efforts for oncology practitioners and industry professionals to improve patient care in Florida.
###
About Florida Cancer Specialists & Research Institute
Recognized by the American Society of Clinical Oncology (ASCO) with a national Clinical Trials Participation Award, Florida Cancer Specialists & Research Institute (FCS) offers patients access to more clinical trials than any private oncology practice in Florida. Over the past 5 years, the majority of new cancer drugs approved for use in the U.S. were studied in clinical trials with Florida Cancer Specialists participation.* Trained in such prestigious medical schools and research institutes as Duke, Stanford, Harvard, Emory, MD Anderson, and Memorial Sloan Kettering, our physicians are consistently ranked nationally as Top Doctors by U.S. News & World Report.
Florida Cancer Specialists has built a national reputation for excellence that is reflected in exceptional and compassionate patient care, driven by innovative clinical research, cutting-edge technologies, and advanced treatments, including targeted therapies, genomic-based treatment, and immunotherapy. Our values are embodied by our outstanding team of highly trained and dedicated physicians, clinicians, and staff.
*Prior to approval
For More Information, Contact:
Jennifer Bradley, Director of Corporate Communications
(847) 280-1740