Robert Ferdman, MD Joins Florida Cancer Specialists & Research Institute Providing Oncology Care to Clay and Duval Counties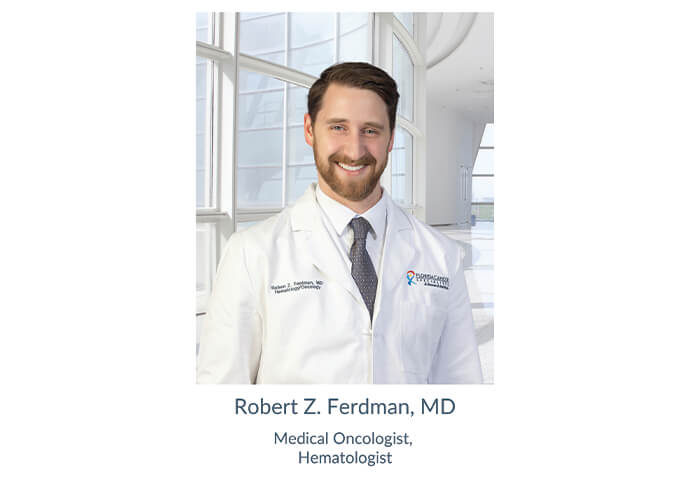 Oncology Care Extended to New Market in Duval County
Fort Myers, Fla., December 5, 2022 – Florida Cancer Specialists & Research Institute, LLC (FCS) welcomes Robert Ferdman, MD to the statewide practice.  He is providing care to patients in Clay County at the Fleming Island clinic, 4689 US Highway 17, Suite 2, Fleming Island, Florida 32003. Dr. Ferdman will also see patients at the FCS Mandarin office, 10232 San Jose Boulevard, Jacksonville, Florida 32257.
Dr. Ferdman completed his medical training in Buffalo, New York. He received his medical degree from Jacobs School of Medicine and Biomedical Science, completed Internal Medicine residency training at the University at Buffalo and was awarded a fellowship in Hematology and Medical Oncology at the Roswell Park Cancer Institute.  He is Board-certified in Internal Medicine.
FCS Chief Executive Officer Nathan H. Walcker said, "Dr. Ferdman joins us with excellent credentials and a commitment to community-based oncology care. We are delighted to welcome him to FCS."
"Dr. Ferdman is skilled in utilizing the latest immunotherapy and targeted therapies, consistent with our focus on providing precision medicine to meet the unique needs of each patient, ensuring they achieve the best possible outcomes," said Michael Diaz, MD.
In addition to the Fleming Island clinic, Dr. Ferdman will see patients in a new location for FCS at its Mandarin clinic, expanding oncology patient care into Duval County for the state-wide practice.
###
About Florida Cancer Specialists & Research Institute, LLC: (FLCancer.com)
Recognized by the American Society of Clinical Oncology (ASCO) with a national Clinical Trials Participation Award, Florida Cancer Specialists & Research Institute (FCS) offers patients access to more clinical trials than any private oncology practice in Florida. The majority of new cancer drugs recently approved for use in the U.S. were studied in clinical trials with Florida Cancer Specialists participation.* Trained in prestigious medical schools and research institutes, our physicians are consistently ranked nationally as Top Doctors by U.S. News & World Report.
Founded in 1984, Florida Cancer Specialists has built a national reputation for excellence that is reflected in exceptional and compassionate patient care, driven by innovative clinical research, cutting-edge technologies and advanced treatments, including targeted therapies, genomic-based treatment, and immunotherapy.  Our highest values are embodied by our outstanding team of highly trained and dedicated physicians, clinicians and staff.
*Prior to approval
For More Information, Contact:
Michelle Robey, VP of Marketing
Michelle.Robey@FLCancer.com
(813) 767-9398
Jen Bradley, Director of Corporate Communications
Jennifer.Bradley@FLCancer.com
(847) 280-1740