Florida Cancer Specialists & Research Institute Welcomes Medical Oncologist Ibrahim Sadek, MD to The Villages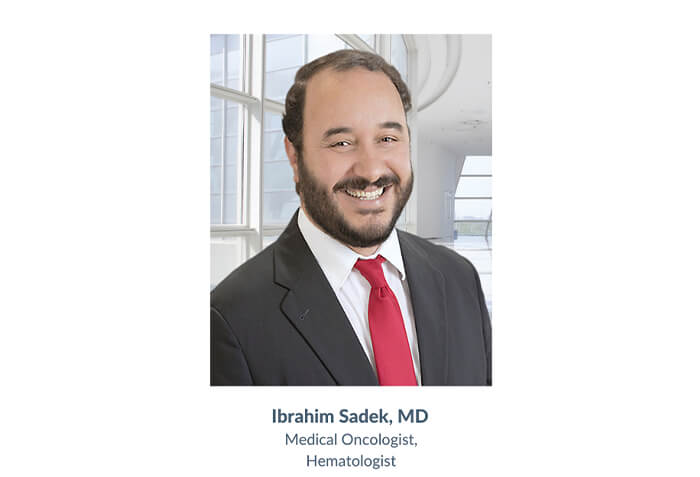 Fort Myers, Fla., May 23, 2022 – Medical oncologist Ibrahim Sadek, MD has joined Florida Cancer Specialists & Research Institute (FCS). Board-certified in Clinical Oncology, Hematology and Internal Medicine, Dr. Sadek is providing care to patients at the FCS Brownwood Cancer Center, 2955 Brownwood Blvd., Suite 107, The Villages, FL 32163.
After receiving his medical degree from Suez Canal School of Medicine in Egypt, Dr. Sadek completed Internal Medicine residency training there and at Georgia Regents University Hospital in Augusta. He completed fellowships at the Mayo Clinic College of Medicine in Rochester, MN (Hematology), at the University of Michigan, Ann Arbor (Geriatric Medicine/Palliative Care) and at Georgia Regents University Hospital in Augusta (Hematology/Oncology).
Prior to joining the statewide practice, Dr. Sadek provided care to patients at Mayo Clinic Health System in La Crosse, WI and served as a consultant at Michiana Hematology-Oncology Cancer Treatment Center in Mishawaka, IN.
"We are pleased to provide residents of The Villages community with access to world-class cancer care close to home at four convenient locations," FCS Chief Executive Officer Nathan H. Walcker said. "Dr. Sadik is a tremendous addition to our physician team."
"Dr. Sadik is a compassionate and experienced medical oncologist with exceptional training," said FCS President & Managing Physician Michael Diaz, MD. "He has a special interest in cancer immunology, which is one of the most promising areas of advanced treatments that are available for our patients."
###
About Florida Cancer Specialists & Research Institute
Recognized by the American Society of Clinical Oncology (ASCO) with a national Clinical Trials Participation Award, Florida Cancer Specialists & Research Institute (FCS) offers patients access to more clinical trials than any private oncology practice in Florida. Over the past 5 years, the majority of new cancer drugs approved for use in the U.S. were studied in clinical trials with Florida Cancer Specialists participation.* Trained in such prestigious medical schools and research institutes as Duke, Stanford, Harvard, Emory, MD Anderson, and Memorial Sloan Kettering, our physicians are consistently ranked nationally as Top Doctors by U.S. News & World Report.
Florida Cancer Specialists has built a national reputation for excellence that is reflected in exceptional and compassionate patient care, driven by innovative clinical research, cutting-edge technologies, and advanced treatments, including targeted therapies, genomic-based treatment, and immunotherapy. Our values are embodied by our outstanding team of highly trained and dedicated physicians, clinicians, and staff.
*Prior to approval
For More Information, Contact:
Michelle Robey, VP of Marketing
Michelle.Robey@FLCancer.com
(813) 767-9398
Jennifer Bradley, Director of Corporate Communications
Jennifer.Bradley@FLCancer.com
(847) 280-1740