Data Governance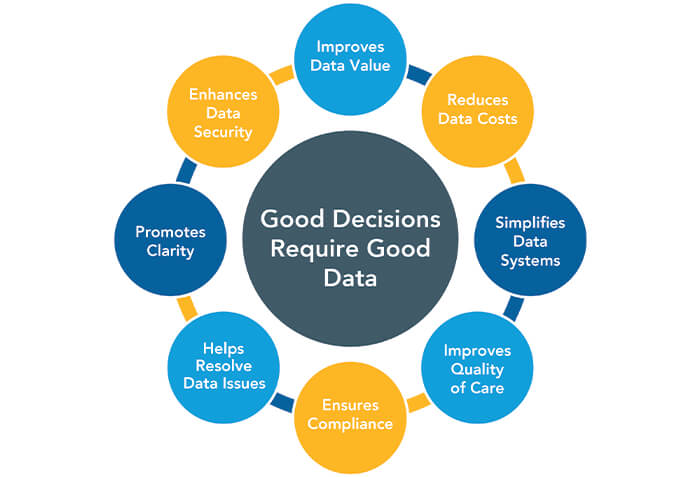 Company-wide initiative will provide standards for collection and storage
By Hannah Burke
Last year, Florida Cancer Specialists enthusiastically launched its Data Governance Program, an initiative designed to institute policies, processes and standards for how data is collected, organized, stored and used throughout the organization.
The FCS Data Governance Committee was established to oversee the program's implementation and monitor its progress. FCS Chief Executive Officer Nathan H. Walcker serves as executive sponsor of the committee and Vice President of Informatics Trevor Heritage, PhD has taken on the role of committee chair.
It was important to FCS that the committee include representatives from the organization's teams and departments. Data plays a role in every sector of FCS operations, so this initiative impacts everyone.
For instance, FCS data may relate to how clinical interventions and observations are documented, or the way in which patient information is attained at intake and later stored, analyzed and secured. Data can relate to billing and claims, or even include the acronyms used by FCS to refer to its clinic locations.
"Like other organizations of our size, complexity and structure, there are many possible ways in which the cross-system exchange of data and information could be inconsistent," Heritage said. "So, it is vital that we have a plan in place to strengthen the management of our data and ensure that it is reliable, secure and being properly used. By doing this, we can more efficiently and deliberately use our organization's data to continue providing world-class cancer care for our patients."
For more than three decades, FCS has been dedicated to its mission of providing communities across Florida with premier cancer care and treatment. As the organization continues to grow and evolve, FCS believes it is imperative that its data infrastructure, practices and protocols follow suit.
Walcker said employees will be kept apprised of developments in its new, "data driven culture" via updates from the Data Governance Committee members, who will serve as the program's central decision makers. They plan to furnish reports on process improvement milestones and contemporary examples of the program's impact across FCS.
In addition to the Data Governance Committee, subject matter users and experts who frequently use and interact with data comprise the FCS Data Stewards Council. They will work to break down data silos by identifying the best ways for individual departments to gather, manage and implement data, as well as how to effectively receive and apply data created by other FCS branches.
While the framework for data governance has been set, it will take time, patience, and cooperation from all team members to realize the program's full vision. The Data Governance Committee has already identified both short and long-term goals, and Walcker said "its progress will be frequently monitored and communicated."