Scott Tetreault, MD Receives Heart of Gold Recognition From Association of Fundraising Professionals in Big Bend Region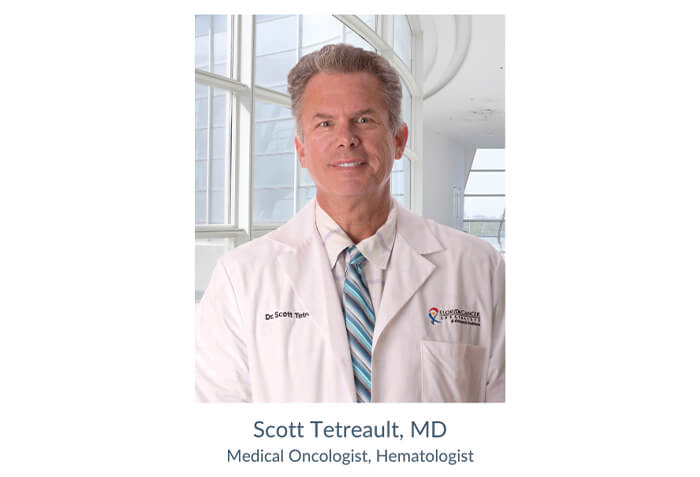 Fort Myers, Fla., November 17, 2022 – Florida Cancer Specialists & Research Institute, LLC (FCS) medical oncologist Scott Tetreault, MD is being honored as a Heart of Gold Recognition Award recipient by the Association of Fundraising Professionals (AFP) Big Bend Chapter for his notable efforts to benefit the Tallahassee community. He was nominated by the Florida Cancer Specialists & Research Institute Foundation. Dr. Tetreault accepted the award at the Chapter's National Philanthropy Day celebration on November 15, 2022.  He was one of nine Heart of Gold awardees recognized for making daily contributions to countless missions and causes in the Big Bend region.
Dr. Tetreault has been the driving force to ensure that local residents have convenient access to world-class cancer care services close to home. In 2012, he helped to establish the first FCS clinic in Tallahassee, which provides treatment for all forms of cancers and blood disorders. Dr. Tetreault is well known to elected officials in the state capitol and in Washington, DC as a trusted advisor and advocate on issues related to cancer care access and affordability.
Years of Dr. Tetreault's hard work and dedication came to fruition in February 2021 with the opening of the newly constructed FCS Tallahassee Cancer Center. The state-of-the-art facility combines cutting-edge technology and advanced treatments to provide a comprehensive range of services in a calming, patient-focused atmosphere, with expanded opportunities to participate in clinical trial research.
FCS Foundation Board Chair Maen Hussein, MD said, "Dr. Tetreault truly does have a heart of gold. He is an exceptional physician with a sincere passion for patient care. His dedication to his community and to ensuring that his patients have access to advanced treatments to achieve the best possible outcomes have had an enormous positive impact throughout Tallahassee and the Big Bend Region."
Dr. Tetreault is Board-certified in Medical Oncology, Internal Care and Palliative Medicine. Widely published in the scientific literature, Dr. Tetreault has served as an investigator in over 50 clinical trials. He has received several honors throughout his career that include selection by his peers in 2003 as Doctor of the Year, the Goldman Award for contributions to the Cancer Community in 2009 and selection by the Consumer Research Council as one of "America's Top Oncologists" every year since 2006.
###
About Florida Cancer Specialists & Research Institute, LLC: (FLCancer.com)
Recognized by the American Society of Clinical Oncology (ASCO) with a national Clinical Trials Participation Award, Florida Cancer Specialists & Research Institute (FCS) offers patients access to more clinical trials than any private oncology practice in Florida. The majority of new cancer drugs recently approved for use in the U.S. were studied in clinical trials with Florida Cancer Specialists participation.* Trained in prestigious medical schools and research institutes, our physicians are consistently ranked nationally as Top Doctors by U.S. News & World Report.
Founded in 1984, Florida Cancer Specialists has built a national reputation for excellence that is reflected in exceptional and compassionate patient care, driven by innovative clinical research, cutting-edge technologies and advanced treatments, including targeted therapies, genomic-based treatment, and immunotherapy.  Our highest values are embodied by our outstanding team of highly trained and dedicated physicians, clinicians and staff.
*Prior to approval
For More Information, Contact:
Michelle Robey, Vice President of Marketing
Michelle.Robey@FLCancer.com
(813) 767-9398
Jen Bradley, Director of Corporate Communications
Jennifer.Bradley@FLCancer.com
(847) 280.1740