Florida Cancer Specialists Venice Health Park Office Receives Blanket Warmer Donation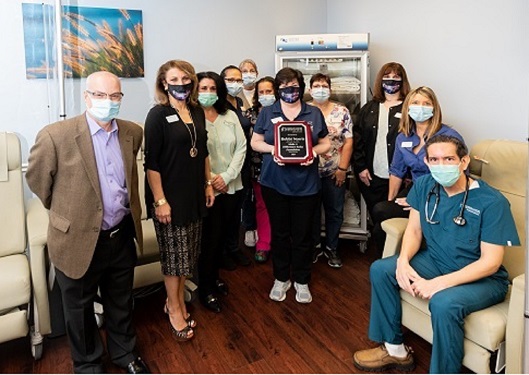 Venice, Fla., March 15, 2021 — Even on hot, sunny days in Florida, it's not unusual for some cancer patients to experience chills during chemotherapy treatment. Thanks to the recent donation of a blanket warmer machine, patients who receive care at Florida Cancer Specialists & Research Institute's (FCS) Venice Health Park location will be much more comfortable. FCS physicians and staff gathered recently to accept the machine gifted by Bobbi Norris, the wife of late philanthropist Dave Norris, and their Make A Difference Today Foundation.
The donation is part of the Foundation's campaign to raise $250,000 to purchase 55 blanket warmers across FCS offices statewide. The first was presented to the FCS Lakewood Ranch clinic in 2016, where Dave received treatment. An impressive $98,000 has been raised towards that goal; this is the sixteenth blanket warmer donated to FCS.
While undergoing chemotherapy to combat stomach cancer, Dave learned first-hand the unrelenting sensation of cold, which caused him to dress in multiple layers and wear mittens in the middle of summer. His experience inspired the couple to help other cancer patients keep warm during treatment.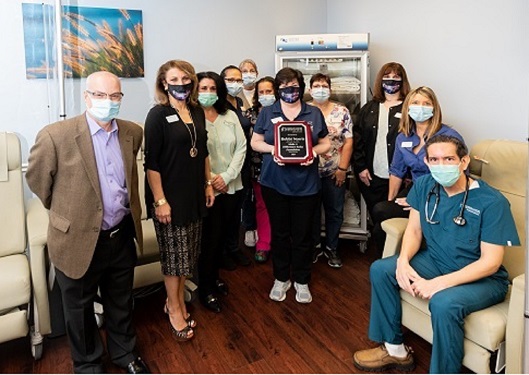 FCS Venice Health Park physicians and staff gathered to accept the donation of a
blanket warmer machine from the Make A Difference Today Foundation.
"It's heartwarming to witness this remarkable act of generosity," said FCS medical oncologist Dr. Andres Soriano. "A warm blanket can make all the difference to a patient while undergoing infusion treatments."
###
About Florida Cancer Specialists & Research Institute
Recognized by the American Society of Clinical Oncology (ASCO) with a national Clinical Trials Participation Award, Florida Cancer Specialists & Research Institute (FCS) offers patients access to more clinical trials than any private oncology practice in Florida. Over the past 5 years, the majority of new cancer drugs approved for use in the U.S. were studied in clinical trials with Florida Cancer Specialists participation.* Trained in such prestigious medical schools and research institutes as Duke, Stanford, Harvard, Emory, MD Anderson, and Memorial Sloan Kettering, our physicians are consistently ranked nationally as Top Doctors by U.S. News & World Report.
Florida Cancer Specialists has built a national reputation for excellence that is reflected in exceptional and compassionate patient care, driven by innovative clinical research, cutting-edge technologies, and advanced treatments, including targeted therapies, genomic-based treatment, and immunotherapy. Our values are embodied by our outstanding team of highly trained and dedicated physicians, clinicians, and staff.
*Prior to approval
For More Information, Contact:
Michelle Robey, Vice President of Marketing
Michelle.Robey@FLCancer.com
(813) 767-9398
Maryalice Keller, Corporate Communications Manager
Maryalice.Keller@FLCancer.com
(585) 314-0172