FCS Celebrates Opening of New Clinic Location in Davenport

Florida Cancer Specialists & Research Institute Celebrates Opening of New Clinic Location in Davenport
Fort Myers, Fla., November 10, 2023 – Florida Cancer Specialists & Research Institute, LLC (FCS) celebrated the opening of its new clinic location in Davenport with a ribbon-cutting ceremony on Thursday, November 9, 2023. The new facility at 40215 Highway 27, Davenport, FL 33837, replaces the former location in Polk County.
FCS Vice President, Operations and Special Projects Sam Watkins opened the ceremony, welcoming FCS physicians, senior leaders and community partners, including Haines City Commissioner Morris West, who also made a few remarks during the ceremony.
The new clinic has 15,000 square feet of space and includes 11 patient exam rooms, 1 treatment room, 34 infusion treatment chairs, with on-site laboratory, pharmacy and PET/CT imaging, nutritional counseling and care coordination services. Patients will also have opportunities to participate in clinical trial research.
FCS Board-certified medical oncologists Syed E. Ahmed, MD, Swati Pathak, MD and Wasif Riaz, MD are providing care to patients at the new Davenport clinic.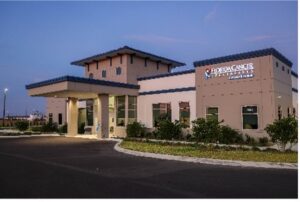 "Our patients are central to all that we do," said Dr. Ahmed. "In this new space, we are creating an environment that will provide an enhanced patient experience and allow my colleagues and I to serving our patients and their families with the most advanced treatments personalized for their unique needs."
During the ceremony, Sam Watkins noted, "This new clinic is a testament to FCS' commitment to patients in Davenport and its surrounding communities in Polk County. None of this would be possible without the dedication and support from our local leadership and office staff. Every day, these are the individuals who are truly making an impact on patient lives."
As the largest community oncology provider in Florida, with nearly 100 locations, FCS removes barriers and improves access to care by bringing world-class oncology treatments and services close to patients.
"The majority of our patients live within 20 miles of their FCS clinic," said FCS Chief Executive Officer Nathan H. Walcker. "Considering the complexities that come with the diagnosis and treatment of cancer, and the collective toll it takes on patients and their families, we are able to relieve many of those stressors through access to our conveniently located clinics. Our patients benefit from advanced treatments and the highest-quality care that matches, and often surpasses, the care available at larger academic cancer centers."
FCS cares for all forms of cancer and blood disorders at all of its locations throughout Florida. The comprehensive team of more than 250 physicians, 220 advanced practice providers and nearly 4,000 team members share a commitment to providing patients and their families with the care and support they need at every step of their cancer journey.