Christopher Eliff, MHA Honored as Recipient of 40 Under 40 Cancer Award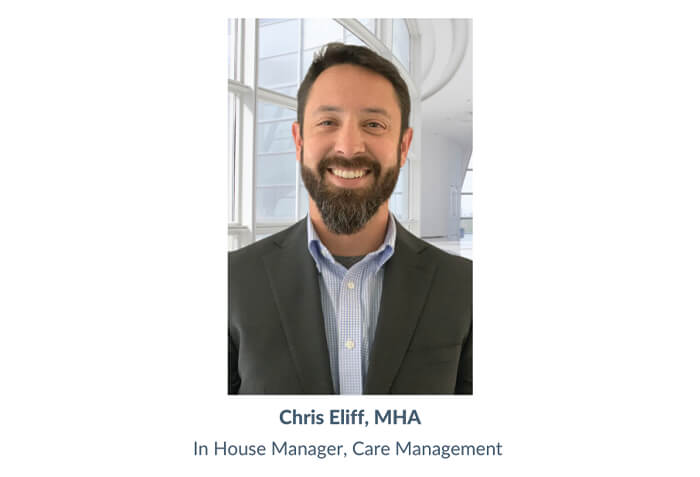 Fort Myers, Fla., June 22, 2022 – Christopher Eliff, MHA, In-house Manager of Care Management for Florida Cancer Specialists & Research Institute, LLC (FCS), has been selected as a recipient of the 40 Under 40 in Cancer Award sponsored by The Association for Value-Based Cancer Care (AVBCC), The Alliance for Innovation in Integrated Healthcare (AIIH), Upstream Partners, The National Community Oncology Dispensing Association (NCODA) and Swim Across America.
40 Under 40 in Cancer is an awards initiative to identify and recognize the contributions being made across the field of cancer by rising stars and emerging leaders under the age of 40. Eliff is among 43 recipients nationwide selected by a panel of reviewers from across diverse roles in oncology. Awardees were honored at a reception held this month in Chicago.
"This award recognizes the nation's most promising young oncology professionals and celebrates their contributions to improve the lives of those affected by cancer," said FCS Chief Executive Officer Nathan H. Walcker.  "Chris is most deserving of this recognition for his commitment to enhancing the lives of our patients as they navigate through their cancer journey."
Eliff is a resident of Cape Coral, FL.
###
About Florida Cancer Specialists & Research Institute, LLC: (FLCancer.com)
Recognized by the American Society of Clinical Oncology (ASCO) with a national Clinical Trials Participation Award, Florida Cancer Specialists & Research Institute (FCS) offers patients access to more clinical trials than any private oncology practice in Florida. The majority of new cancer drugs recently approved for use in the U.S. were studied in clinical trials with Florida Cancer Specialists participation.* Trained in prestigious medical schools and research institutes, our physicians are consistently ranked nationally as Top Doctors by U.S. News & World Report.
Founded in 1984, Florida Cancer Specialists has built a national reputation for excellence that is reflected in exceptional and compassionate patient care, driven by innovative clinical research, cutting-edge technologies and advanced treatments, including targeted therapies, genomic-based treatment, and immunotherapy.  Our highest values are embodied by our outstanding team of highly trained and dedicated physicians, clinicians and staff.
*Prior to approval
For More Information, Contact:
Michelle Robey, VP of Marketing
Michelle.Robey@FLCancer.com
(813) 767-9398
Jennifer Bradley, Director of Corporate Communications
Jennifer.Bradley@FLCancer.com
(847) 280-1740