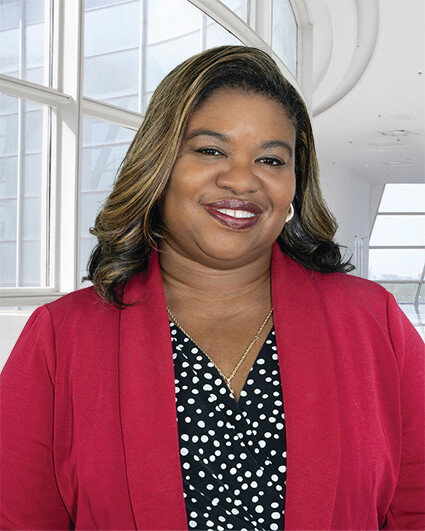 Nicole Radford, FACHE, MS, MT(ASCP)
Vice President, Laboratory Services
Nicole joined Florida Cancer Specialists in 2022, bringing more than 20 years of laboratory experience. She is a noted expert and frequent speaker and panelist on laboratory operations and leadership, staffing and diversity, equity and inclusion initiatives.
With an overall focus on operational excellence and growth, Nicole provides leadership to ensure access, quality, safety, service and the effective use of technology in laboratory services across all clinical locations. She also works closely with strategic partners to identify new market opportunities and partnerships.
From 2019 – 2022, Nicole served as Director of Laboratory Services for UW Health SwedishAmerican Hospital in Rockford, IL, leading a team of more than 100 professionals at onsite and remote locations with a focus on continuous improvement and the delivery of high-quality patient care.  She led the implementation of a new lab information system and as well as the development of new test platforms to expand COVID-19 testing capacity. Previously as Senior Director of Laboratory and Medical Imaging for Katherine Shaw Bethea Hospital in Dixon, IL, she managed the project to implement Low Dose CT screening for lung cancer and opened the Hospital's first laboratory patient service center.
Certified by The American Society of Clinical Pathologists, Nicole is an American College of Healthcare Executives fellow, an associate member of The American Society of Clinical Pathologists and a member of the Clinical Laboratory Management Association. Nicole also served as 2018 cohort of the Thomas C. Dolan Executive Diversity Program with ACHE.
She received a master's degree in Healthcare Administration from the University of St. Francis, Joliet, IL and a bachelor's degree in Clinical Laboratory Sciences from Illinois State University.
Actively involved in community service, she was most recently a member of the Board of Directors of the Rockford Chamber of Commerce and Vice Chairwoman of the YWCA of Northwestern, IL, in addition to other volunteer activities with her local church and food bank.