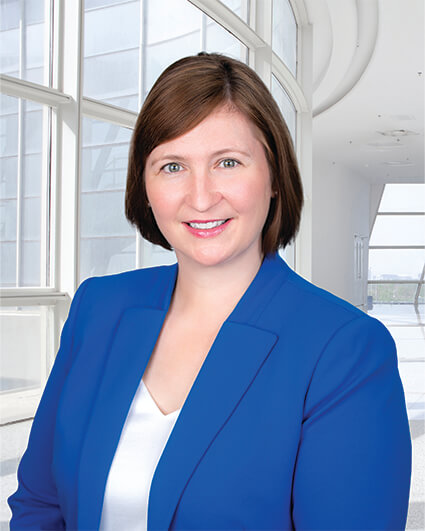 Colleen Lewis, MSN, ANP-BC, AOCNP
Vice President, Nursing and Research
Colleen Lewis, MSN, ANP-BC, AOCNP, oversees the direction of nursing practice activities, including the statewide practice's 220 nurse practitioners and physician assistants, as well as the clinical research department. In collaboration with physician and executive leadership she is responsible for aligning these clinical and ancillary departments under a common mission and strategy to ensure the highest quality standards of patient care and operating procedures.
Prior to joining FCS in 2022 in this role, Colleen held increasingly responsible nursing leadership positions at Emory Healthcare in Atlanta, GA.  She was instrumental in developing the Phase 1 Clinical Trial Program at Winship Cancer Institute of Emory University, lending her expertise to establish the first dedicated research nurse practitioner role and the creation of standard operating procedures. As Director of Phase I Clinical Operations, Colleen collaborated with physicians, executive leaders, nurses and clinicians to ensure the accurate research conduct and care of patients enrolled on early phase clinical trials. Colleen was instrumental in leading process improvement initiatives at Winship Cancer Institute where she held a strategic improvement leadership role, instilling system-wide problem-solving and continuous improvement initiatives that aligned strategy and contributed to a culture of operational excellence. During this time, Colleen also served as Interim Director of the Ambulatory infusion Center.
Colleen completed a Master of Science in Nursing in the Adult Oncology Nurse Practitioner Program at Emory University, where she began her career as a staff RN in the Hospital's Bone Marrow Transplant Unit. She received her Bachelor of Science in Nursing from the University of Miami in Coral Gables, FL. She also earned her Lean Six Sigma Green Belt for Healthcare Organizations from the University of Georgia.
Colleen is an affiliate member of the American Society of Clinical Oncology (ASCO), the American Practitioner Society for Hematology and Oncology and the Oncology Nursing Society.