Chemotherapy Infusion Services
Chemotherapy Infusion Services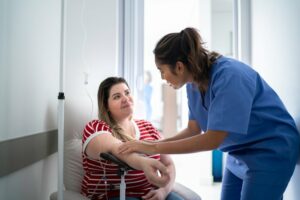 Chemotherapy is the use of special medications to destroy cancer cells; it aims to keep cancer cells from growing, dividing and making more cells. Chemotherapy is used for several purposes:
To treat a specific cancer
To control tumor growth when cure is not possible
To shrink tumors before surgery or radiation therapy
To relieve symptoms, such as pain
To prevent a possible cancer recurrence and destroy microscopic cancer cells that may remain after a tumor is removed surgically
Chemotherapy Services at FCS
At Florida Cancer Specialists & Research Institute (FCS), our physicians have extensive experience in treating all types of cancer and have access to the newest and most effective medications to tailor treatment for your specific cancer.
Infusion Chemotherapy
One of the most common and effective treatments of cancer is the infusion of anti-cancer medications with an intravenous solution. This is known as chemotherapy or "chemo." Since every human body is different, administration and results of the infusions are also unique to each patient. Our physicians and nursing staff monitor each patient's progress and make adjustments as needed to ensure optimal effectiveness.
Outpatient chemotherapy infusion centers are located at each of our offices and are designed with your comfort and safety in mind. Our convenient locations allow you to go about your daily life without lengthy and disruptive travel. Treatment rooms are designed with your comfort in mind and include comfortable lounge chairs.
They are staffed with highly trained, chemotherapy-certified oncology nurses who work closely with our physicians to manage chemotherapy treatments and monitor patients' physical and emotional well-being. In addition, these dedicated professionals are a source of education and support. They can advise you about self-care during treatments to prevent complications and decrease side effects.
Knowing what to expect helps relieve apprehension. We encourage you to ask questions and discuss any concerns with us.
Oral Chemotherapy
Approximately 35% of all cancer medications are now in a pill form and may be recommended to you as a treatment option. Since the medication is taken at home, it is essential that you follow your physician's orders for dosing and frequency as well as medication handling instructions.
Our in-house oral oncolytic pharmacy, Rx To Go, is available to fill your prescriptions. Our oncology trained pharmacists will collaborate with your physician and assist in the management of your oral treatment.
It is recommended that you stay in close contact with your FCS location if you experience any side effects or have concerns associated with your ability to take any of these medications.
Other Infusions
We also provide non-cancer related infusions, including therapies for Crohn's disease, rheumatoid arthritis, MS disorders, osteoporosis and many more. We are specially trained in the administration of these types of infusions and in managing their side effects. As with chemotherapy, the length and duration of treatment varies from patient to patient.
Common Questions about Chemotherapy
Chemotherapy is the use of chemical agents to stop cancer cells from growing. It can be delivered intravenously, also known as an infusion. Chemotherapy can also be administered orally in pill form, or injected, depending on which medicines are used. Treatment plans are crafted by your physician based on your specific condition, age, health and more.
There are hundreds of combinations of chemotherapy treatments. Each must be administered according to very specific instructions, and treatment times vary from minutes to hours. A few less common treatments may require a short hospital stay. Typical infusions are completed in our offices. Your personalized plan will also determine the number of days or weeks that you will continue treatment.
If your treatment plan does call for infusions, there are a few things you can do to ease the process. Our treatment rooms are designed for your comfort, but you might want to bring a book, DVD, tablet, portable MP3 or writing material. You may also want to bring a blanket, as the rooms are typically cool, and if you'd like to bring a favorite pillow so that you can nap, you are welcome to do so. Also, do bring a lunch if you will be there several hours, as we do not have kitchen facilities. While we try to accommodate family members, especially for your first treatment, we can do so only if space is available.
Our nurses are specially trained to administer the medications that your doctor prescribes and to manage side effects. Because each person is unique, side effects vary from one patient to the next. However, the tools at our disposal to manage side effects have greatly improved in recent years. We have provided online resources to help you combat side effects.
Your ability to work while completing chemotherapy sessions depends, of course, on how the treatment affects you and on your physician's advice. We do assist patients in completing forms to apply for leave under the Family and Medical Leave Act, or for disability, if necessary. Some patients schedule treatments late in the week so that they can rest and recuperate over the weekend before returning to work.
Numerous options, such as massage therapy, relaxation techniques, swimming and support groups, provide many patients significant relief and support in dealing with side effects. Discuss any alternative therapies you may be considering with your oncologist first.
We see a remarkable and positive difference in patients who take a proactive approach to their treatment. Our education classes are just the place to start. You are the first line of defense in your own treatment. The more informed you are, the more likely you are to minimize side effects and maximize results.