Padmaja Sai, MD Honored as AdventHealth Humanitarian of the Year 2023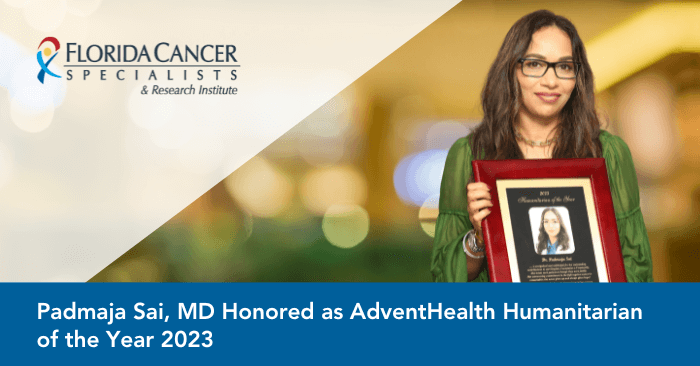 Padmaja Sai, MD Honored as AdventHealth Humanitarian of the Year 2023
Fort Myers, Fla., November 20, 2023 –   Padmaja Sai, MD, medical oncologist and hematologist with Florida Cancer Specialists & Research Institute, was presented last week with the AdventHealth Foundation 2023 Humanitarian of the Year Award. Dr. Sai was selected by the Foundation's board of directors in recognition of her dedicated commitment and extensive volunteer service to enhance the health and well-being of residents in the Palm Coast and Flagler County community.
Tanam Ahmed, MD, who presented the award on behalf of the AdventHealth Foundation, said, "Dr. Sai truly is a special and extraordinary individual who will go above and beyond to fight for those facing cancer and complex hematological conditions. She treats each patient as though they were family and with an unwavering commitment. She never gives up and always brings hope."
In addition to providing care to patients at the Florida Cancer Specialists & Research Institute (FCS) Palm Coast clinic location, Dr. Sai serves as director of the AdventHealth Palm Coast Cancer Center and as chair of the Department of Medicine. Her ongoing efforts in support of AdventHealth Foundation's signature Pink Army fundraising event has helped residents throughout Flagler County gain access to vital breast cancer education and screenings.
Dr. Sai also provides medical care to underserved individuals at the Flagler Free Clinic. She is actively involved with skin cancer and colon cancer screening programs, and smoking cessation initiatives.
Ashna Sai, Dr. Sai's youngest daughter and a pre-med student, shared her comments during the program. "My mom does everything in life with love and authenticity. If I could become just an ounce of who she is I would be the luckiest person ever."
Dr. Sai began her volunteer service with health organizations as a young girl. "I have always been moved by the ability to make a sick person feels better," she said.
Dr. Sai earned her medical degree from BLDEA's Medical College in Vijayapura (Bijapur), India. She was the first in her family and the first female in the town where she grew up to attend medical school. With her husband, she later came to the U.S. to pursue further training.
She completed her internal medicine residency at Brookdale University Hospital in Brooklyn, New York, where distinguished herself as chief resident. She was awarded a fellowship in hematology-oncology there and gained extensive experience in bone marrow transplantation at New York University Hospital.
Deeply committed to providing exceptional oncology care in community-based settings, close to home, Dr. Sai began her career with Hematology-Oncology Associates in Boca Raton in 2004. Two years later she joined Florida Hospital Cancer Institute in Palm Coast. She recalls, "When I visited Palm Coast for an interview, though it was my very first time, I felt a deep connection with the place, and I certainly feel it's God's blessing that brought me to this community."
Dr. Sai joined FCS in 2013, providing care to patients with all forms of cancer and blood disorders at the FCS Palm Coast clinic.