FCS Clinical Oncology Dietitian Rhone Levin Selected to Speak at NIH Workshop on Nutrition in Oncology Care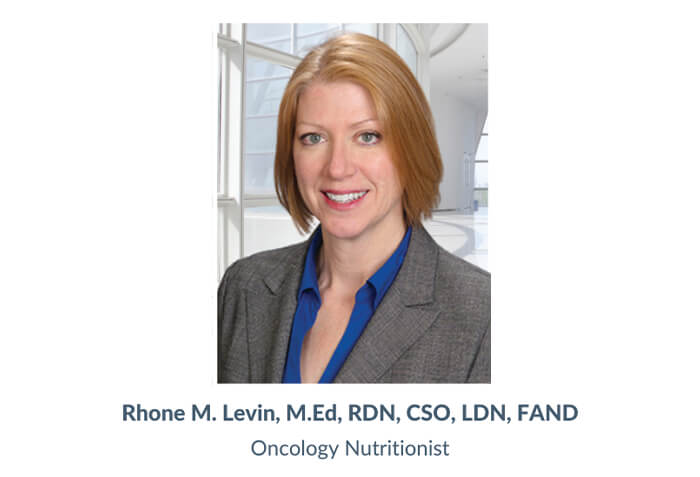 Rhone M. Levin, M.Ed., RDN, CSO, LDN, FCS clinical oncology dietitian, has been selected to speak at the Pathways to Prevention workshop hosted this month by the National Institutes of Health. Nutrition as Prevention for Improved Cancer Health Outcomes is the focus of the three-day virtual gathering that will help identify priorities for research on nutritional interventions to prevent cancer-associated malnutrition and improve cancer health outcomes.
As many as 80% of people with cancer experience malnutrition, but nutritional screening and interventions aren't standard parts of outpatient cancer care in the U.S. This workshop will discuss the current scientific evidence on how nutritional interventions affect cancer health outcomes. After the workshop, an independent panel will draft a report on evidence gaps and identify priorities for future research in this area.
Board-certified in Oncology Nutrition, Levin provides individualized counseling to patients, assisting them in achieving nutritional goals and managing nutrition-related side effects. She has volunteered with the Academy of Nutrition Oncology Nutrition Dietetic Practice Group throughout her 30-year career, and is recognized for her long-standing advocacy to develop insurance coverage for oncology nutrition care in the U.S.
FCS dietitians are uniquely trained to provide individualized nutrition guidance to address the specific medical needs of our patients and optimize nutrition before, during and after cancer treatment. Learn more:  https://flcancer.com/nutrition-and-wellness/