FCS Gynecologic Oncologists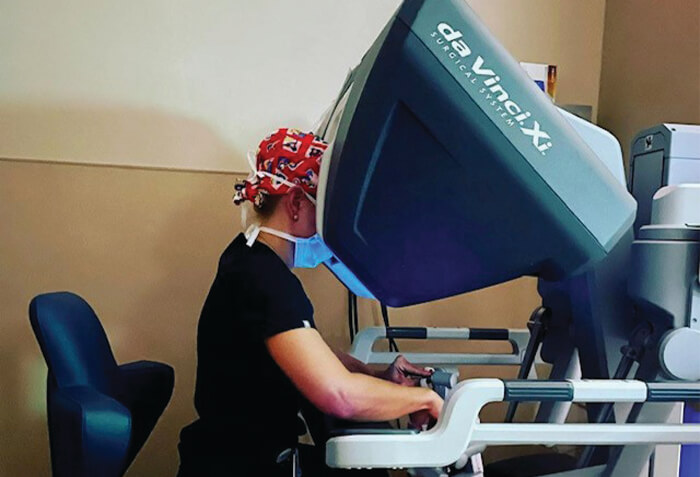 Delivering Advanced Clinical Training for Robotic Surgery
Physicians from around the country are learning advanced surgical techniques from two Florida Cancer Specialists gynecologic oncologists who are skilled at using the da Vinci® robotic-assisted surgical system. Jessica Stine, MD, who provides care at FCS Trinity and Wesley Chapel locations, and Margarett Ellison, MD, with Gynecologic Oncology of Tallahassee, A Division of Florida Cancer Specialists, have each received designation as a National GYN Oncology Observation Site for Intuitive Surgical.
They join a prestigious list of nine sites in the U.S. providing peer-to-peer advanced clinic training for surgeons. Designations were made based on each physician's extensive experience, and for meeting and exceeding best in class volume and efficiency metrics and clinical outcomes.
An advanced robotic surgeon, Dr. Stine performs the highest volume of GYN robotic surgery in the Tampa Bay area. Dr. Ellison has 22 years of specialized expertise with a focus on the management of gynecologic malignancies, radical pelvic surgery and robotic surgery.
During the past 20 years, da Vinci® platforms have been transformative, yielding enormous benefits for patients. As use expands in oncology treatment, opportunities for one-on-one training and coaching on best practices with an experienced and highly regarded colleague are critically important.
"We are performing technically challenging procedures in a way that results in less pain and side effects, faster recovery time and better patient outcomes," said Stine.
"I am pleased to have the opportunity to share my expertise with colleagues," Ellison said, "which will benefit many more oncology patients locally and across the country."
Dr. Ellison and Dr. Stine are joined by their colleagues Howard M. Goodman, MD, Antonella Leary, MD and Christopher McCann, DO in providing gynecologic oncology at FCS.