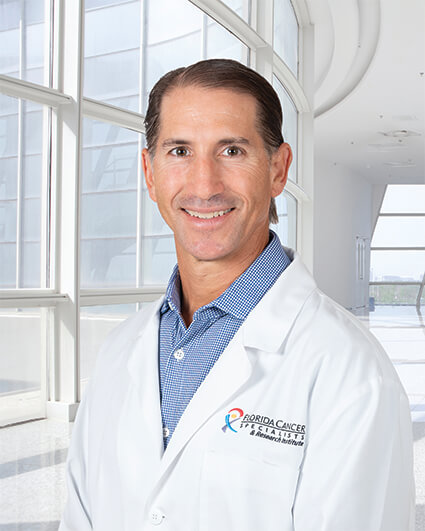 Matthew Biagioli, MD, MS
Board-certified in Radiology, Matthew Biagioli, MD, MS has an extensive background and specialized expertise in radiation oncology practice, research and training.
Dr. Biagioli received his medical degree as well as a master's degree from the Medical University of South Carolina in Charleston. He was named Chief Resident during his residency training in Radiation Oncology at the University of Miami in Miami, FL  and later completed a fellowship in Brachytherapy at Beth Israel Medical Center in Boston, MA.
Prior to joining Florida Cancer Specialists in 2022, Dr. Biagioli served as Departmental Chair and Statewide Medical Director of Radiation Oncology for AdventHealth Medical Group in Orlando, FL. Previously, he served as Vice Chair of Radiation Oncology and Chief of Brachytherapy and Gyn Oncology Services for H. Lee Moffitt Cancer Center in Tampa, FL. He has held academic appointments with the University of Central Florida, the University of South Florida, serving as an associate professor and medical student mentor.
He has authored and co-authored numerous textbook chapters as well as articles and abstracts in prestigious peer-reviewed publications and is a frequent speaker and educator at professional symposia and conferences.
Dr. Biagioli is a member of the American College of Radiology, the American Radium Society, the American Brachytherapy Society and the American Society for Therapeutic Radiology and Oncology.
Medical School
Medical University of South Carolina, Charleston, SC
Residency
Radiation Oncology – University of Miami, Miami, FL
Fellowship
Brachytherapy – Beth Israel Medical Center, Boston, MA
Professional Affiliations
American College of Radiology
American Radium Society
American Brachytherapy Society
American Society for Therapeutic Radiology and Oncology